With a prep time of just 15 minutes and a cook time of just 20 minutes, you'll enjoy the world's best Mashed Potatoes recipe at home.
Arrange the 4 ingredients from the list below on your kitchen countertop and follow the next 3 steps to learn how to make the best rated Mashed Potatoes recipe among the chefs of the best restaurants in the world!

Step 1:
Peel potatoes and keep in cold water until ready to cook. Then cut them into evenly-sized chunks, about an inch or so thick. In a large pot, bring a gallon of water and 2 tablespoons salt to a boil over high heat.
Add potatoes and cook until tender but still firm, about 15 minutes. Carefully drain out all of the water. After draining the water, immediately return the potatoes to the hot stockpot.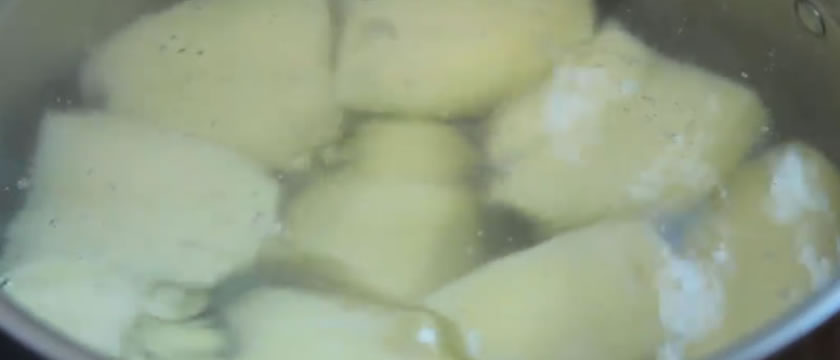 Step 2:
While the potatoes are boiling you can prepare the mixture of melted butter. In a small saucepan heat butter and milk over low heat until butter is melted and mixture steams.

Step 3:
Using an extruding masher or a ricer, mash hot potatoes until no lumps remain. Lightly mix in about half of hot butter mixture, just until blended. Season with salt and pepper to taste.
Taste for salt and add more butter mixture until seasoned to your liking. Mix until dense and thick. When light and creamy, stop mixing immediately.
Serve warm.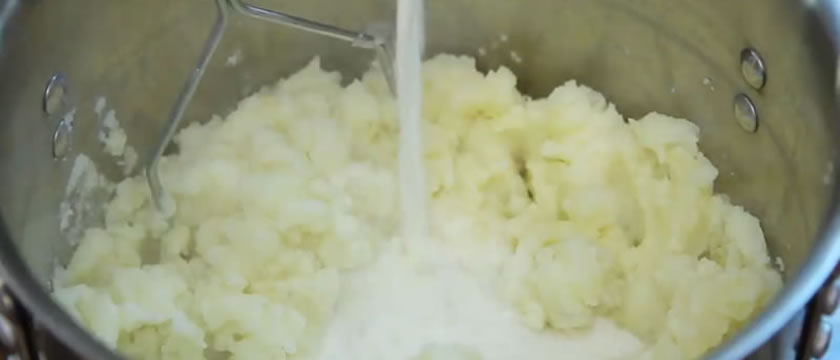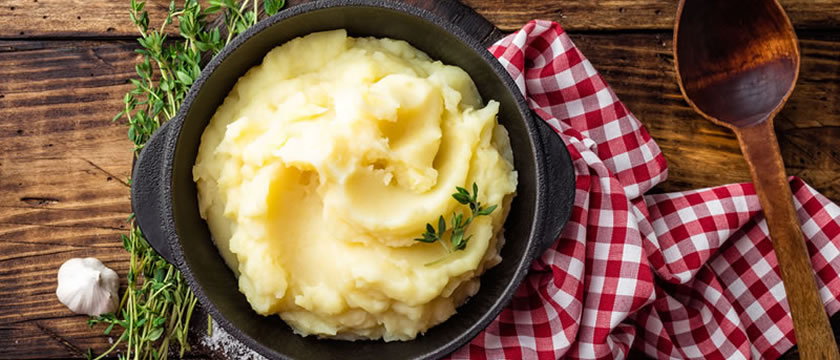 Potatoes should always be placed in cold salted water and brought to a boil, this helps them cook evenly. The length of time you need to boil the potatoes for entirely depends on how big they are cut. I quarter them so they generally take about 15 minutes.
To check if your potatoes are ready, use a fork. If it is easy to pierce the potato, it is ready to go! Just make sure that you don't skimp on the butter or cream. It's the fat that helps the potatoes reheat well.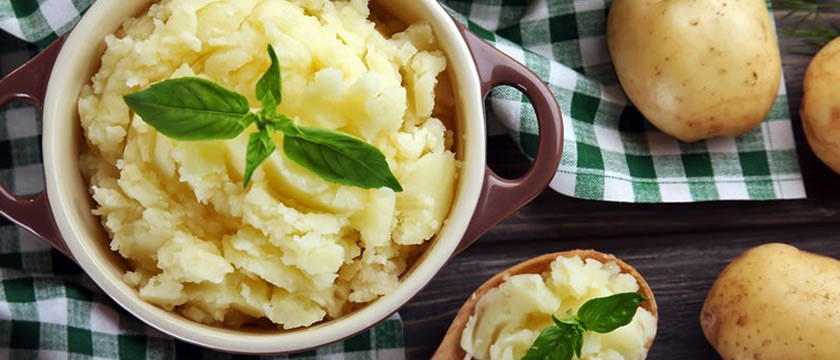 Per Serving: 257 calories; 7g fat; 4g saturated fat; 20mg cholesterol; 76mg sodium; 43g carbohydrate; 5g sugars; 4g fiber; 6g protein.
Keep in mind that the nutritional information in the best recipe for Mashed Potatoes is a rough estimate and can vary greatly based on the products used.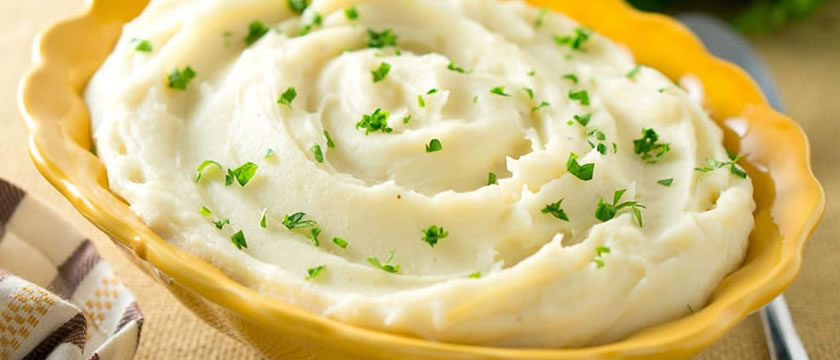 The Best Mashed Potatoes recipe are perfectly rich and creamy, full of great flavor, easy to make, and always a crowd fave.
Mashed Potatoes are a great side dish to make in advance, especially during the holiday season, to free up time and oven-space.
As well as being the ultimate comfort food, mashed potatoes can also be jazzed up into something really special.
There are few really simple techniques involved in making the best Mashed Potatoes that make a world of difference to their taste and texture.
For the very best Mashed Potatoes recipe, use a hand masher or a potato ricer.
Using a hand mixer, stand mixer or food processor can break down the starches in the potatoes and cause a very gluey or gummy texture.
You can still get buttery smooth creamy Mashed Potatoes mashing by hand.


Prep Time: 15 mins

Cook Time: 20 mins

Total Time: 35 mins

Servings: 2-4 People

Skill Level: Easy
If you would like to prep just the raw potatoes ahead of time, they can hold in a stockpot of cold water for up to 4 hours. You can either store this in the fridge, or just add in a couple of ice cubes every few hours to keep the water cold.
Mashed Potatoes will keep for two to three days in the fridge. Our favorite way to reheat mashed potatoes is to just put them in the microwave (covered) for a couple minutes, and then give them a good stir before serving.
When you reheat them, add about a tablespoon of milk per cup of Mashed Potatoes and stick them in the oven to reheat. You can even make ahead and freeze Mashed Potatoes. To freeze homemade Mashed Potatoes, scoop them into an airtight container.
Press them out into a flat square and freeze it flat. This helps to make sure that the potatoes defrost and reheat evenly! Frozen Mashed Potatoes reheat pretty well in the oven with a little milk.
To defrost, allow the mash to come up to room temperature then place in a heatproof bowl, cover with tin foil and place over a pan of very gently simmering water until hot all the way through.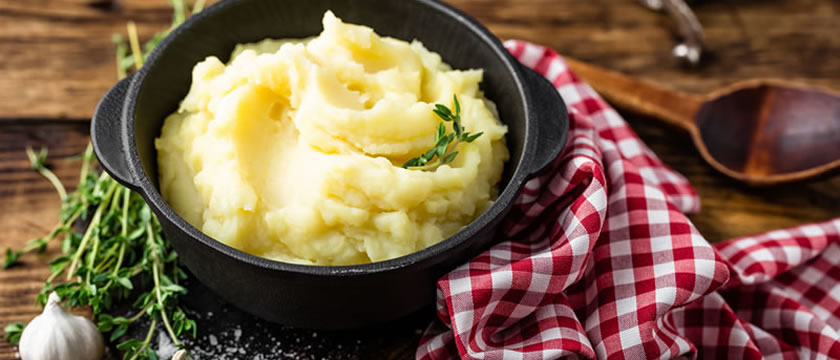 This is widely believed to be the first-ever recipe for mashed potatoes, appearing as early as 1747. The most successful efforts to make instant mashed potatoes during this period, however, came not from the U.S., but the United Kingdom, thanks to Theodore Rendle, who filed one of the first patents for the perfect Mashed Potatoes recipe in the U.K. in 1942.
The gourmet Mashed Potatoes recipe for the Thanksgiving icon have a long, drawn-out history. The delicious Mashed Potatoes recipe are the glue of our thanksgiving meal, the most essential element, the only thing that must be served in some form.
The best Mashed Potatoes recipe work best when made with small red potatoes. You can also use yukon gold potatoes, or russet potatoes. The potatoes soak up some of the liquid that they are cooked in so boiling your potatoes in chicken broth is a great way to add flavor to your mashed potatoes.
If you do not have chicken broth, you can also use water, but your mashed potatoes won't have that extra flavor that takes them over the top.