With a prep time of just 10 minutes and a cook time of just 1 hour, you'll enjoy the world's best meatloaf recipe at home.
Arrange the 8 ingredients from the list below on your kitchen countertop and follow the next 5 steps to learn how to make the best rated meatloaf recipe among the chefs of the best restaurants in the world!

Step 1:
Preheat oven to 350 degrees Fahrenheit (175 degree Celsius). Spray a loaf pan with cooking spray; set aside.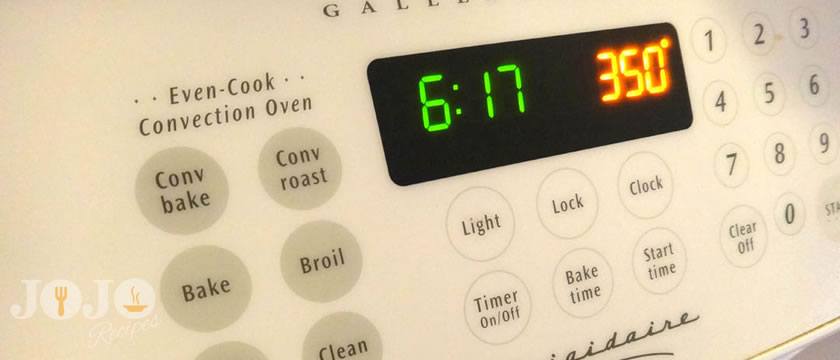 Step 2:
In a large bowl, combine the beef, egg, onion, milk and bread OR cracker crumbs. Use your hands to mush and mix these ingredients together until well combined.
Don't mash or the meatloaf will be dense, mix lightly. Some people like to use a wooden spoon, but I find your hands are the best tools for the job.
Wear latex/nitrile gloves if you don't want meatloaf hands.Also, be sure to moisten the cracker crumbs or bread crumbs before adding them to the meatloaf.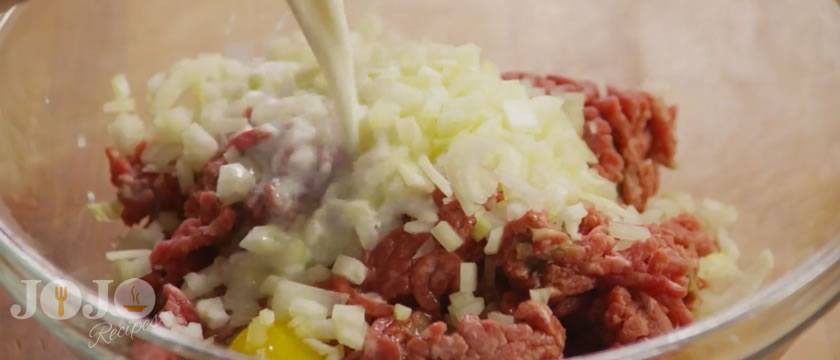 Step 3:
Season with salt and pepper to taste and place in a lightly greased 5x9 inch loaf pan, OR form into a loaf and place in a lightly greased 9x13 inch baking dish.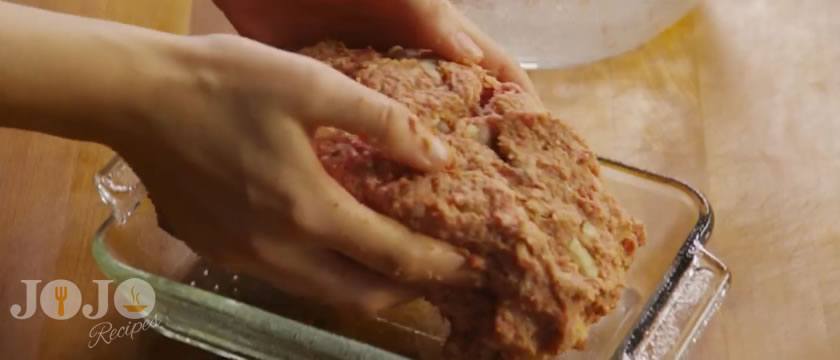 Step 4:
I also like to coat my meatloaf with a glaze which adds an extra something-something to the meatloaf both in looks and flavour.
In a separate small bowl, combine the brown sugar, mustard and ketchup. Mix well and pour the glaze over the meatloaf into a uniform layer.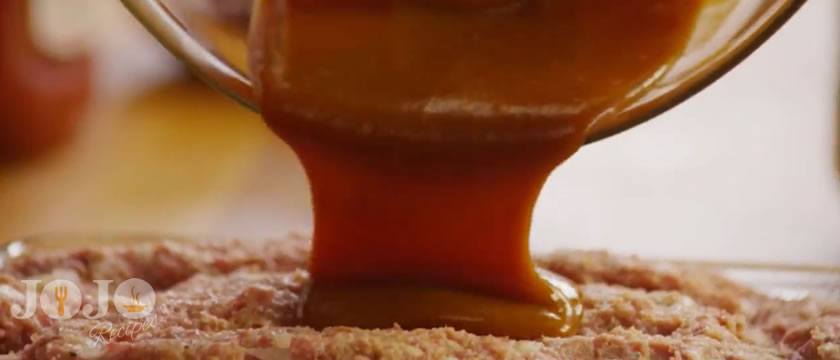 Step 5:
Place sheet pan on the center rack of oven, bake at 350 degrees Fahrenheit (175 degree Celsius) for 1 hour.
A pan of hot water in the oven, under the meat loaf, will keep the top from cracking.
Stand for 10 minutes before turning out and cutting into thick slices.
You will probably get a bit of crumbling just on the edges of the first couple of slices, this is normal and indicative of the tenderness and juiciness of the meatloaf.
Zero crumble indicates firm packed harder meatloaf which isn't as enjoyable!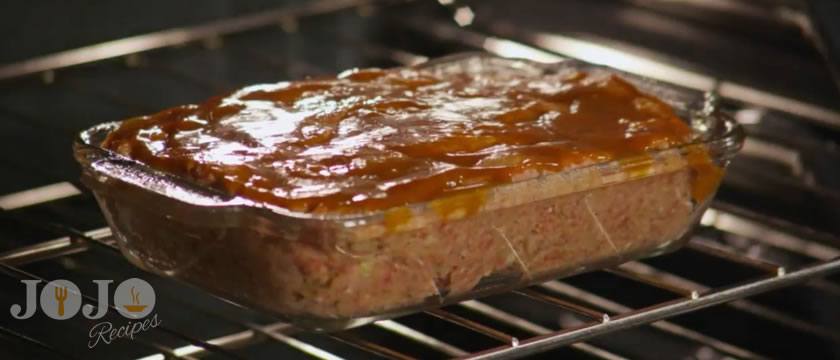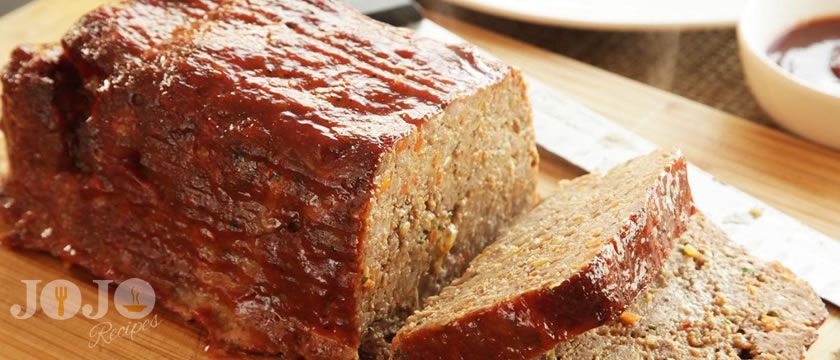 Bake for 60 minutes or until done. Best way to tell when a meatloaf is done is to use an instant-read thermometer. Insert the thermometer into the meatloaf and when it reaches 160 degrees Fahrenheit (175 degree Celsius), it's done.
Cooking times are for fresh or thoroughly thawed Ground Beef. Color is not a reliable indicator of Ground Beef doneness. Remove meatloaf and let stand 10 minutes before slicing.
Test potatoes for doneness and return to oven if needed while meatloaf rests. Cut meatloaf into slices. Serve with potatoes.
Meatloaf can be made 3 days ahead; wrap in foil and chill, or freeze for up to 3 months.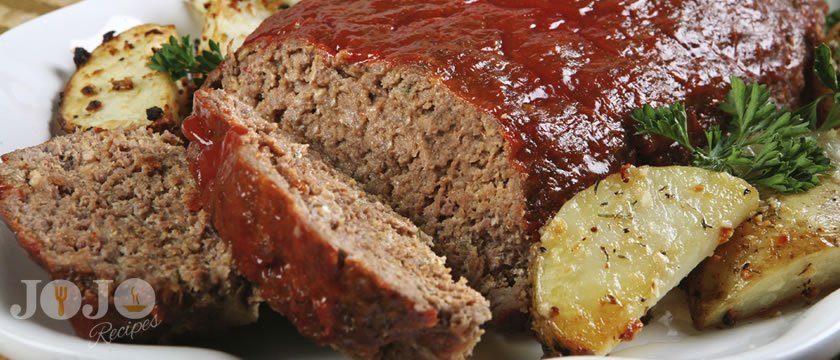 Per Serving: 372 calories; 12g fat; 5g saturated fat; 135mg cholesterol; 1092mg sodium; 38g carbohydrate; 31g sugars; 0g fiber; 26g protein.
Keep in mind that the nutritional information in the best recipe for Meatloaf is a rough estimate and can vary greatly based on the products used.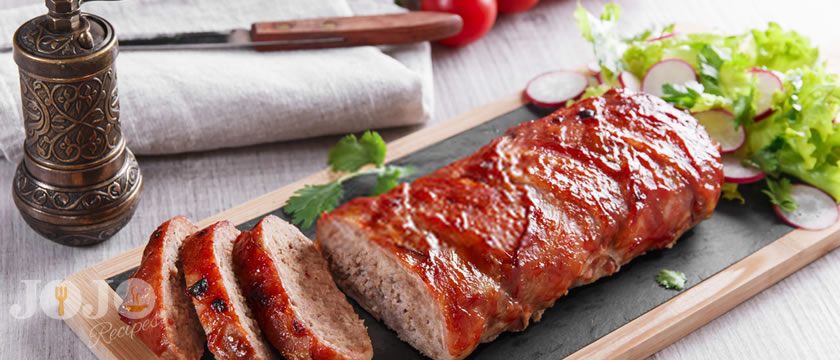 Make dinnertime less hectic with this delicious Meatloaf recipe.
World's best Meatloaf recipe is a dish of ground meat mixed with other ingredients and formed into a loaf shape, then baked or smoked.
The shape is created by either cooking it in a loaf pan, or forming it by hand on a flat pan.
The best Meatloaf recipe is normally served warm as part of the main course, but can also be found sliced as a cold cut.
This gourmet Meatloaf recipe is so much more than just a giant hunk of ground beef in a loaf shape.
It always exudes flavor, with a moist, soft consistency, but doesn't fall apart when sliced.
Aluminum foil can be used to keep food moist, cook it evenly, and make clean-up easier.


Prep Time: 15 mins

Cook Time: 1 hr
Total Time: 1 hr 15 mins
Servings: 6-8 People
Skill Level: Easy
We use two thin spatulas to remove the meatloaf from the pan and transfer it to a cutting board.
You could also slice and serve the meatloaf directly from the loaf pan, or use parchment paper to line the pan for easy removal.
To reheat, microwave each slice on microwavable plate uncovered on Medium-High (70%) 1 1/2 to 2 minutes.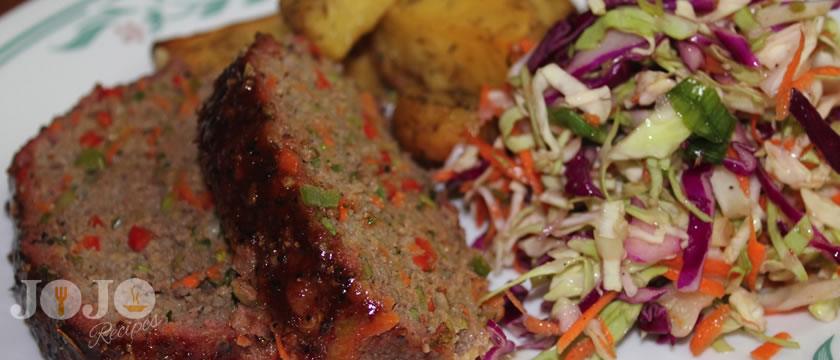 The awesome Meatloaf recipe is a traditional German, Scandinavian and Belgian dish, and it is a cousin to the Dutch meatball. The top rated Meatloaf recipe of minced meat was mentioned in the Roman cookery collection Apicius as early as the 5th century.
American perfect Meatloaf recipe has its origins in scrapple, a mixture of ground pork and cornmeal served by German-Americans in Pennsylvania since Colonial times.
The delicious recipe for Meatloaf in the contemporary American sense did not appear in cookbooks until the late 19th century.
During the Great Depression, cooking tasty Meatloaf recipe was a way to stretch the food budget for families by using an inexpensive type of meat and other ingredients as leftovers.
Meatloaf is usually made from ground beef, although lamb, pork, veal, venison, poultry and seafood are also used.
Don't be afraid to mix your meat when making the perfect recipe for Meatloaf. Never go all beef, add that ground pork, you'll end up with a much better tasting Meatloaf.
How To Make Meatloaf Moist?
Our trick is to put a big pan of water on the rack underneath the Meatloaf pan. The steam created will make for the softest, moistest Meatloaf ever!
The gourmet Meatloaf recipe can be considered a typical comfort food and is served in many diners and restaurants.
In a 2007 poll by Good Housekeeping, the best recipe for Meatloaf was the seventh-favorite dish of Americans.