With a prep time of just 15 minutes and a cook time of just 40 minutes, you'll enjoy the world's best Peach Cobbler recipe at home.
Arrange the 10 ingredients from the list below on your kitchen countertop and follow the next 6 steps to learn how to make the best rated Peach Cobbler recipe among the chefs of the best restaurants in the world!

Step 1:
Add the sliced peaches, sugar and salt to a saucepan and stir to combine.
If using canned peaches, skip to step 3.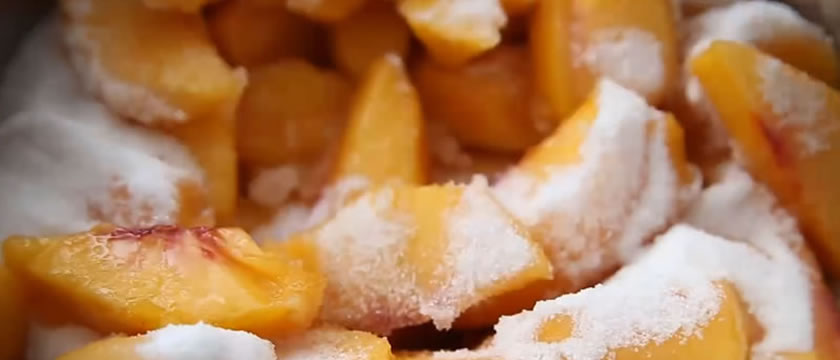 Step 2:
Cook on medium heat (300 ° F to 400 °F) for just a few minutes, until the sugar is dissolved and helps to bring out juices from the peaches. Remove from heat and set aside.

Step 3:
Preheat oven to 350 degrees F. Slice butter into pieces and add to a 9x13 inch baking dish. Place the pan in the oven while it preheats, to allow the butter to melt. Once melted, remove the pan from the oven.

Step 4:
In a large bowl combine flour, sugar, baking powder, and salt. Add milk, stirring just until dry ingredients are moistened.

Step 5:
Pour the mixture into the pan, over the melted butter and smooth it into an even layer.

Step 6:
Spoon the peaches and juice (or canned peaches, if using) over the batter. Using a spatula, carefully spread batter over the tops of peaches.
Trying to spread out as evenly as you can and covering most of the peaches. Sprinkle cinnamon generously over the top.
Bake at 350 degrees for about 40 minutes or until the cobbler batter is baked through and the peaches are bubbling. The Peach Cobbler will be very lightly browned.
For the best saucy results, let it stand for 20-30 minutes before serving. To serve, scoop onto a plate and serve with your choice of whipped cream or vanilla ice cream.
Per Serving: 386 calories; 12g fat; 4g saturated fat; 33mg cholesterol; 211mg sodium; 66g carbohydrate; 12g sugars; 1g fiber; 4g protein.
Keep in mind that the nutritional information in the best recipe for Peach Cobbler is a rough estimate and can vary greatly based on the products used.
What could be a more perfect ending to a summertime meal than perfect Peach Cobbler recipe?
Made with fresh peaches and a crispy, buttery, vanilla topping this world's best Peach Cobbler recipe is perfect for entertaining guests on a summer night or even during the middle of the day at a cookout.
Fresh peaches make this dish absolutely delicious.
If you're hosting a Memorial Day or 4th of July cookout this summer, this Peach Cobbler recipe is perfect.
Everyone will be raving about it and asking for more. Little ones will enjoy this summer dessert just as much as the adults.
Store leftover Peach Cobbler covered, in the fridge for 4-5 days.
To reheat peach cobbler, use the microwave or oven. To reheat in the oven, remove it from the fridge and allow it to come to room temperature.

Prep Time: 15 mins

Cook Time: 40 mins

Total Time: 55 mins

Servings: 6-9 People

Skill Level: Easy
Bake at 350 degrees F for about 20 minutes or until warmed through. Place tinfoil over it if it's browning too much.
You can also freeze the baked cobbler for up to 3 months. Thaw overnight in the refrigerator and warm in the oven before serving.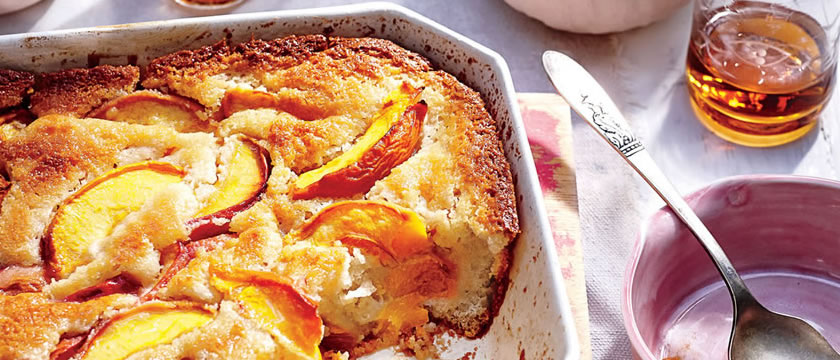 The gourmet Peach Cobbler recipe is a uniquely American dessert, something westward travelers "cobbled" together to create something like the fancy pies they remembered from back home.
During the early years of European settlement, many Dutch and English immigrants brought traditional pie recipes with them to the New World, adapting to what was available to them in America.
The delicious Peach Cobbler recipe is a dish that was born around the campfire, when those traveling West pulled together the ingredients they had on hand to make a satisfying dessert.
Without access to rolling pins, baking ovens or pie tins, they put dried or preserved fruit in Dutch ovens, topped it off with biscuit dough and baked the mixture over an open fire until it was brown and bubbling.
Even though it was an improvisation that was born through the hardship of the trail, tasty peach cobbler recipe has become a beloved, even iconic, dish.
It's less time-consuming to prepare than a pie, but it still has warm, fruity goodness for the perfect ending to a great meal.