With a prep time of just 1 hour and a cook time of just 50 minutes, you'll enjoy the world's best Lasagna recipe at home.
Arrange the 18 ingredients from the list below on your kitchen countertop and follow the next 5 steps to learn how to make the best rated Lasagna recipe among the chefs of the best restaurants in the world!

Step 1:
Cook the lasagna pasta. Drain. Lasagna noodles need structure—they have a lot of ingredients layered between them!—so they can't be too mushy. Make sure to cook them until they're very al dente.
Check out the packaging and cook it for two-thirds of the recommended time. Since you will be baking the entire lasagna in the oven after you layer it, your pasta will continue cooking, so give it a place to go! Overcooked pasta does not a good lasagna make.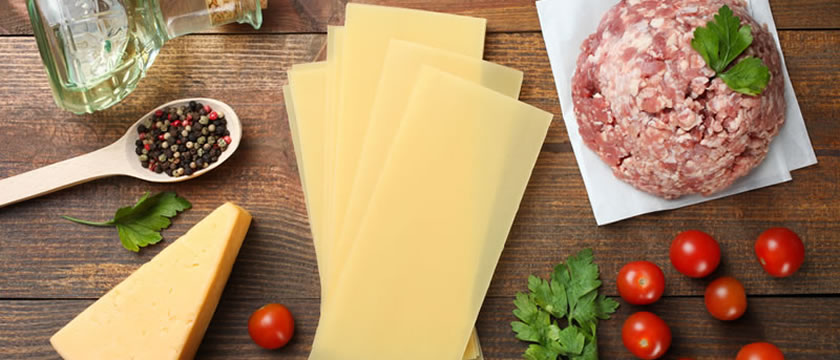 Step 2:
In a 3-quart saucepan over medium-high heat, add in ground sausage and ground beef. Use a spoon to break up the meat into small pieces.
Add in onion and garlic and cook until meat is well browned, stirring constantly. Season the beef as desired. Pour off any fat.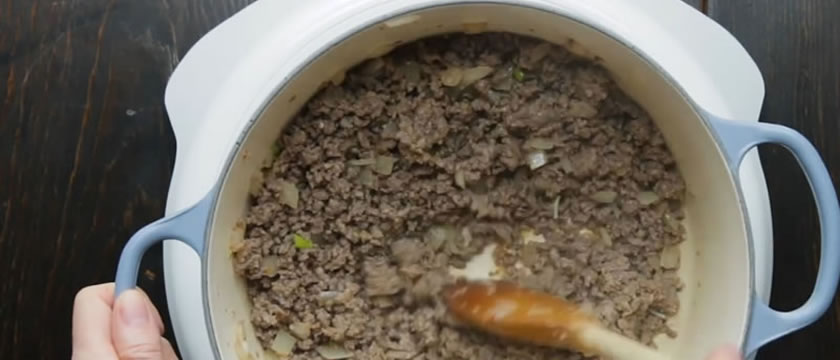 Step 3:
Stir in tomatoes, tomato paste, water, sugar, 3 tablespoons parsley, basil, fennel, 1/2 teaspoon salt and pepper; bring to a boil. Bring up to the boil, then simmer for 30 mins until the sauce looks rich.
The most important part of this whole things is her sauce. It's rich with flavour and texture. Using tomato paste results in a thick and rich sauce. Don't skip this ingredient!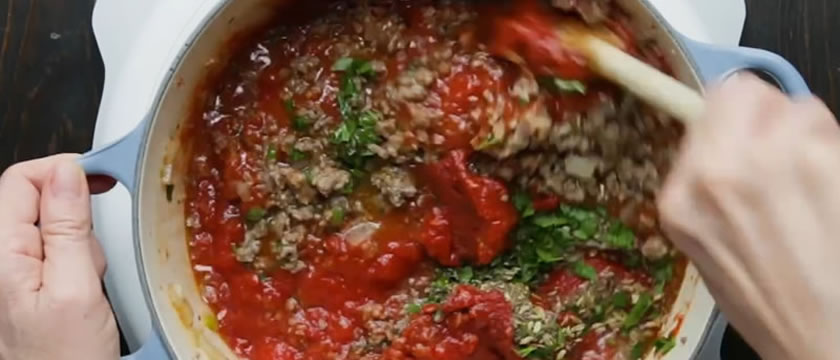 Step 4:
Make the cheese filling. In a small bowl, mix egg, ricotta cheese, and remaining parsley and salt. Refrigerate until ready to assemble lasagna.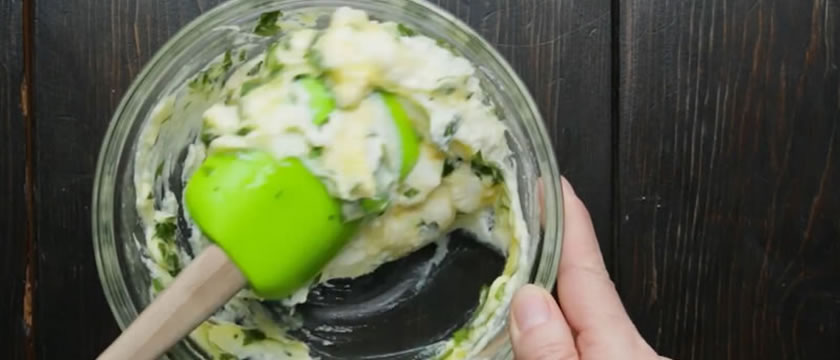 Step 5:
In baking dish, placing a layer of meat sauce under the first layer of noodles will help prevent the noodles from sticking to the bottom of the baking dish. Layer with three noodles and a third of the ricotta mixture.
Sprinkle with 1 cup mozzarella cheese and 2 tablespoons Parmesan cheese. I don't recommend using fresh mozzarella because all different brands have different moisture levels and it can affect the finished product. If you do want to use fresh mozzarella, be sure to slice it thin and press out all the extra moisture in paper towels.
Repeat layering two more times to create three complete layers. To finish, place a final layer of pasta, topped with another 1 cup of meat sauce to cover the pasta. Top with remaining mozzarella and Parmesan cheese.
Cover loosely with aluminum foil.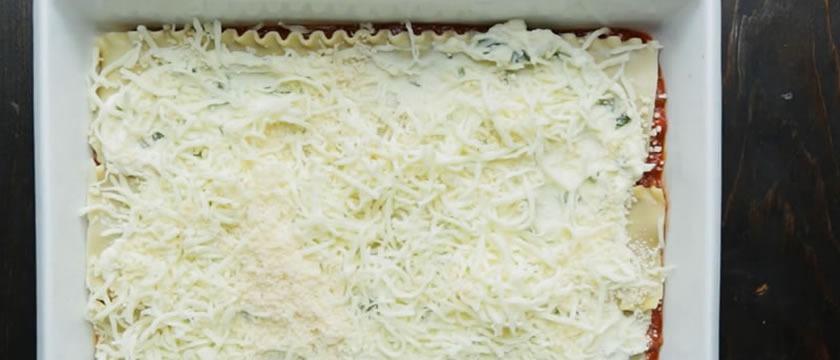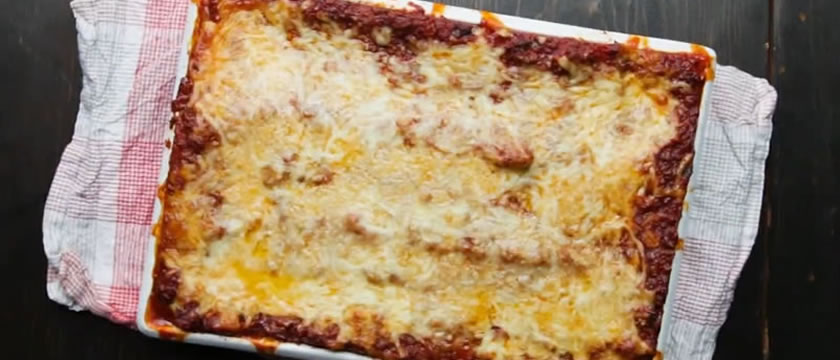 Bake the lasagna in preheated oven for 25 minutes. Remove foil, and bake an additional 25 minutes to allow cheese to brown. Let it rest.
If you dig right into your lasagna straight out of the oven, it'll turn into a sloppy mess. Let it cool 15-20 minutes before cutting. It'll cut perfectly if you just wait a few extra minutes.
There's nothing worse than having your entire top portion of cheese stuck to your aluminum foil cover.
Poke 8-10 toothpicks evenly around the top of your lasagna, pushing them in halfway to keep the aluminum foil from touching and sticking to your lasagna.
Just be sure to count and remove every toothpick prior to serving.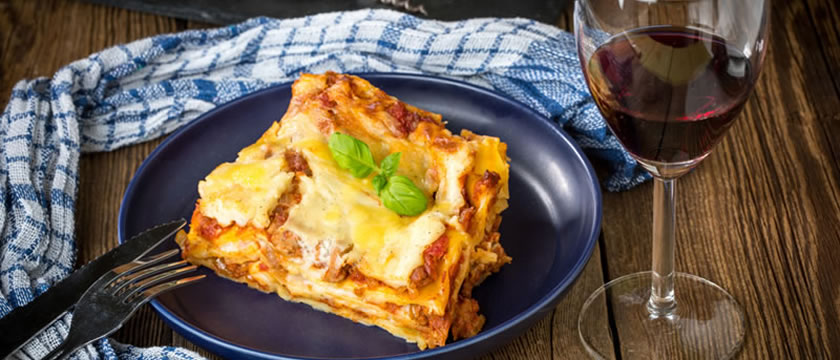 Per Serving: 519 calories; 27g fat; 13g saturated fat; 109mg cholesterol; 1013mg sodium; 35g carbohydrate; 10g sugars; 4g fiber; 35g protein.
Keep in mind that the nutritional information in the best recipe for Lasagna is a rough estimate and can vary greatly based on the products used.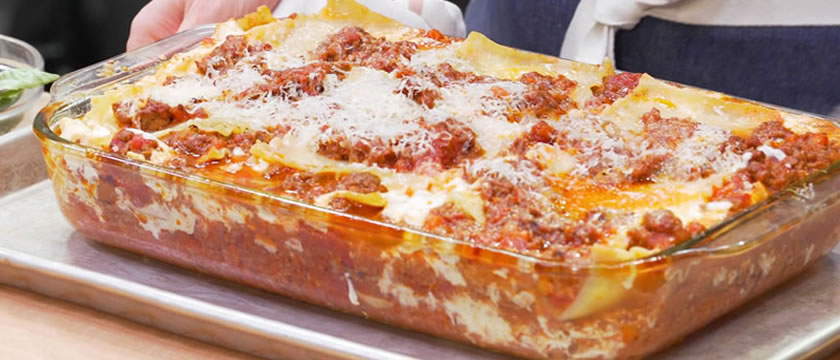 We'll give you hints and exact ingredients to use for the best lasagna recipe your family has ever had.
You can't go wrong with this deliciously rich meat lasagna recipe.
The best lasagna recipe ever starts out with a homemade bolognese sauce.
You'll want to be sure to use a lean ground beef for best results so that the sauce doesn't end up greasy.
The sauce builds flavor with minced onion and garlic.
You'll want to make sure to mince your onions because you don't want the sauce to end up being too chunky.
We are going for the ideal texture here and the only chunks in the sauce should be from the meat.


Prep Time: 1 hr

Cook Time: 50 mins

Total Time: 1 hr 50 mins

Servings: 10-13 People

Skill Level: Easy
Draining the fat from the skillet is a must for your lasagna layers, which will already have a lot of fat from cheese.
At least half the pleasure of making a lasagna is enjoying the leftovers! They will keep in the fridge for at least 5 days.
Reheat individual slices in the microwave, or warm the whole casserole (covered with foil) in the oven at 350°F until bubbly again.
To Freeze Baked Lasagna:
Line the pan with foil before assembling, then assemble and bake as directed. Let it cool completely, then freeze until solid.
Once frozen, lift the frozen lasagna block from the casserole dish, wrap it in more foil, then freeze for up to a month.
To Reheat a Baked Lasagna:
Remove the lasagna from the freezer and unwrap all the layers of foil. Transfer to the original casserole dish, cover, and let it thaw in the fridge overnight.
Once thawed, warm the whole casserole (covered with foil) in the oven at 350°F until bubbly again.
To Freeze and Reheat Individual Slices:
Cut the baked and cooled casserole into slices and wrap each slice individually in foil.
Combine them in a freezer storage bag and freeze for up to 1 month. Thaw overnight in the fridge.
To reheat, unwrap from the foil, place on a microwave-safe dish, and reheat in the microwave for a few minutes until bubbly.
To Reheat an Unbaked Frozen Lasagna:
Remove the lasagna from the freezer and unwrap all the layers of foil.
Transfer to the original casserole dish, cover, and let it thaw in the fridge overnight.
Once thawed, bake as directed.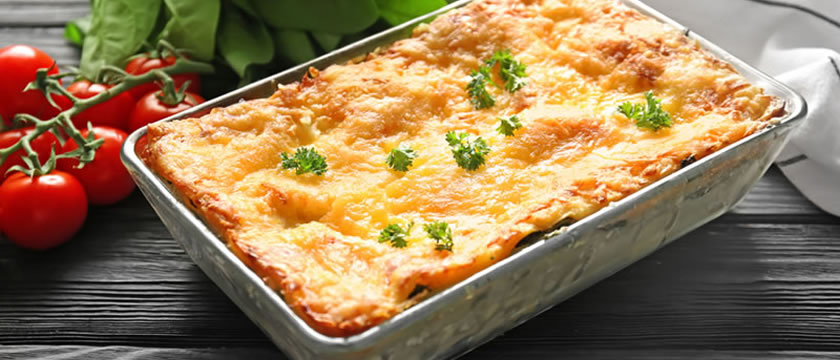 Many countries have debated for years who came up with the first delicious lasagna recipe.
Of course, Italy claims they were the first, but really should be credited for perfecting the layers and layers of deliciousness that is lasagna.
In fact, researchers in Britain found a cookbook with a lasagna recipe that dates back to the 1390's, staking their claim to the first gourmet lasagna recipe.
The tasty lasagna of Naples, lasagna di carnevale, is layered with local sausage, small fried meatballs, hard-boiled eggs, ricotta and mozzarella cheeses, and sauced with a Neapolitan ragù, a meat sauce.
Regardless of who can claim the lasagna fame, we are grateful to whoever is responsible for passing this recipe on through the centuries!