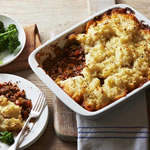 How To Make Shepards Pie Recipe in 8 Steps
After hundreds of Shepards Pie recipes tested by our expert team, we chose the best Shepards Pie recipe of 2023! Learn how to make in 8 easy steps! Regardless of what you call it, a Shepards pie is basically a casserole with a layer of cooked meat and vegetables, topped with mashed potatoes, and baked in the oven until the mashed potatoes are well browned. This easy Shepards Pie recipe is simmered together in the most delicious sauce, and topped with the creamiest mashed potatoes.
Here are the basic Shepards pie ingredients that you will need to make this recipe:
Shepards Pie Ingredients (Meat Filling)
2 Tablespoons Olive Oil

1 Cup Chopped Yellow Onion

1 Lb. 90% Lean Ground Beef -or Ground Lamb

2 Teaspoons Dried Parsley Leaves

1 Teaspoon Dried Rosemary Leaves

1 Teaspoon Dried Thyme Leaves

1/2 Teaspoon Salt

1/2 Teaspoon Ground Black Pepper

1 Tablespoon Worcestershire Sauce

2 Garlic Cloves -minced

2 Tablespoons All Purpose Flour

2 Tablespoons Tomato Paste

1 Cup Beef Broth

1 Cup Frozen Mixed Peas & Carrots

1/2 Cup Frozen Corn Kernels
Shepards Pie Ingredients (Potato Topping)
1 1/2 - 2 Lb. Russet Potatoes -about 2 Large Potatoes Peeled And Cut Into 1 Inch Cubes

8 Tablespoons Unsalted Butter -1 Stick

1/3 Cup Half & Half

1/2 Teaspoon Garlic Powder

1/2 Teaspoon Salt

1/4 Teaspoon Ground Black Pepper

1/4 Cup Parmesan Cheese



How To Make Shepards Pie - #1 Step

Make the Meat Filling. Add the oil to a large skillet and place it over medium-high heat for 2 minutes. Add the onions and carrots. Cook 5 minutes, stirring occasionally.




How To Make Shepards Pie - #2 Step

Add the ground beef (or ground lamb) to the skillet and break it apart with a wooden spoon. Add the parsley, rosemary, thyme, salt, and pepper. Stir well. Cook for 6-8 minutes, until the meat is browned, stirring occasionally.




How To Make Shepards Pie - #3 Step

Add the Worcestershire sauce and garlic. Stir to combine. Cook for 1 minute. Add the flour and tomato paste. Stir until well incorporated and no clumps of tomato paste remain.




How To Make Shepards Pie - #4 Step

Add the broth, frozen peas, and frozen corn. Bring the liquid to a boil then reduce to simmer. Simmer for 5 minutes, stirring occasionally. Set the meat mixture aside. Preheat oven to 400 degrees F.




How To Make Shepards Pie - #5 Step

Make the potato topping. Place the potatoes in a large pot. Cover the potatoes with water. Bring the water to a boil. Reduce to a simmer. Cook until potatoes are fork tender, 10-15 minutes.




How To Make Shepards Pie - #6 Step

Drain the potatoes in a colander. Return the potatoes to the hot pot. Let the potatoes rest in the hot pot for 1 minute to evaporate any remaining liquid.




How To Make Shepards Pie - #7 Step

Top it with the cheesy mashed potatoes. Add butter, half & half, garlic powder, salt, and pepper. Mash the potatoes and stir until all the ingredients are mixed together. Add the parmesan cheese to the potatoes. Stir until well combined. Assemble the casserole.




How To Make Shepards Pie - #8 Step

Pour the meat mixture into a casserole dish. Pour the meat mixture into a 9x9 (or 7x11) inch baking dish. Spread it out into an even layer. Spoon the mashed potatoes on top of the meat. Carefully spread into an even layer.
How Long to Cook Shepards Pie?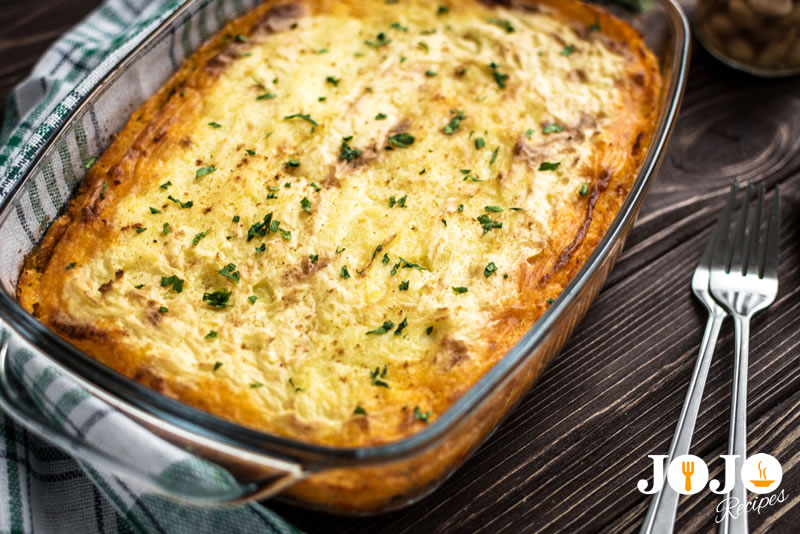 If the baking dish looks very full, place it on a rimmed baking sheet so that the filling doesn't bubble over into your oven. Bake uncovered for 25-30 minutes. Bake until the meat is bubbling and the potatoes are golden. Cool for 15 minutes before serving.

After your Shepards pie is cooked, you can store typically it for an additional 3-5 days, covered in the fridge. You can freeze this Shepards Pie! After cooking the pie cover it tightly and you can freeze it for up to two months.

Cook the frozen pie at 350 degrees Fahrenheit for an hour before enjoying.
Shepards Pie Nutrition Facts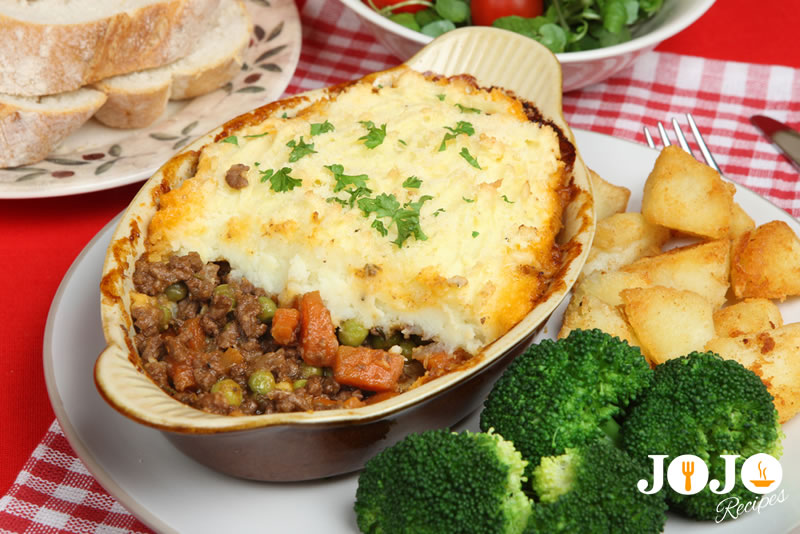 Per Serving:
400 calories
;
30g fat
;
15g saturated fat
;
97mg cholesterol
;
751mg sodium
;
13g carbohydrate
;
2g sugars
;
2g fiber
;
19g protein
. Please keep in mind that nutritional information is a rough estimate and can vary greatly based on products used.
The Best Shepards Pie Recipe 2023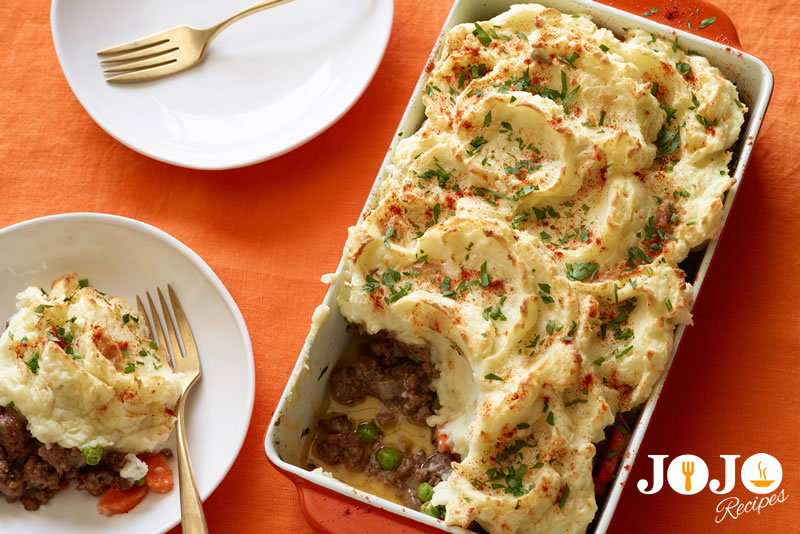 This is the best Shepards Pie recipe of all time! So whether you're planning a big feast for St. Patrick's Day, or just looking for some comforting meal prep for the week ahead, be sure to bookmark this recipe and let's make some shepherd's pie! If you're new to Shepard's Pie (also spelled Shepherd's Pie), let me be the first to welcome you to your new favorite comfort food. Shepards Pie comes to us from England, and is traditionally made with lamb or mutton. In the States, people use ground beef, which is what we call for here.

This easy Shepards Pie recipe is filled with lots of veggies and tender ground beef (or lamb), simmered together in the most delicious sauce, and topped with the creamiest mashed potatoes. When you dig in you get a spoonful of mashed potatoes, some crispy bits, meat, and vegetables all in one bite. It's pure comfort food.

What follows is a simple recipe for a ground beef version of Shepards Pie.
This is the best shepherd's pie recipe I've ever tasted. Shepards pie is a delicious crustless meat pie topped with mashed potato. This recipe is made with minced meat, cooked with onions, peas, corn and carrots in a gravy.
Shepards Pie Recipe Tips
In this Shepards Pie recipe you could use ground beef or ground lamb. I typically use ground beef because it is widely available. But, for a special occasion, like St. Patricks day, I would use ground lamb.

Making the best Shepards Pie is not difficult. I find that the easiest way to make this dish is to work ahead. You could make the beef or lamb mixture ahead of time. Or, you could make the mashed potatoes ahead of time. You could also make the whole recipe ahead of time. Just assemble the casserole, cover the dish, and keep it in the refrigerator until you are ready to bake it. I find it is best to bake it within 3 days of preparing it. Shepards pie is a great dish to prepare ahead of time.

When you are ready to bake it, take it out of the refrigerator for about 20 minutes before you need to bake it to let it start coming to room temperature. Uncover it, and bake. If you can't find frozen mixed peas and carrots, you could use 1/2 cup frozen peas and 1/2 cup frozen sliced carrots.
Put a layer of creamed corn between the ground beef and the mashed potatoes. To make the top beautifully golden and extra crispy, I like to drizzle with a bit of butter and parmesan. Shepards Pie is a delicious combo of ground lamb that has been cooked with carrots, sweet green peas and corn.

Because Shepards pie is a heavier dish that already includes meat, potatoes, and vegetables, I would recommend a lighter salad to go with it. To cook from frozen, defrost the meat and mashed potato in the fridge overnight and then continue from step 7, making sure the Shepards pie is piping hot all the way through before serving.

All Shepards Pie ingredients are fully cooked before layering them together in the baking dish, so you're just heating them up until hot and aromatic.
Shepards Pie Origin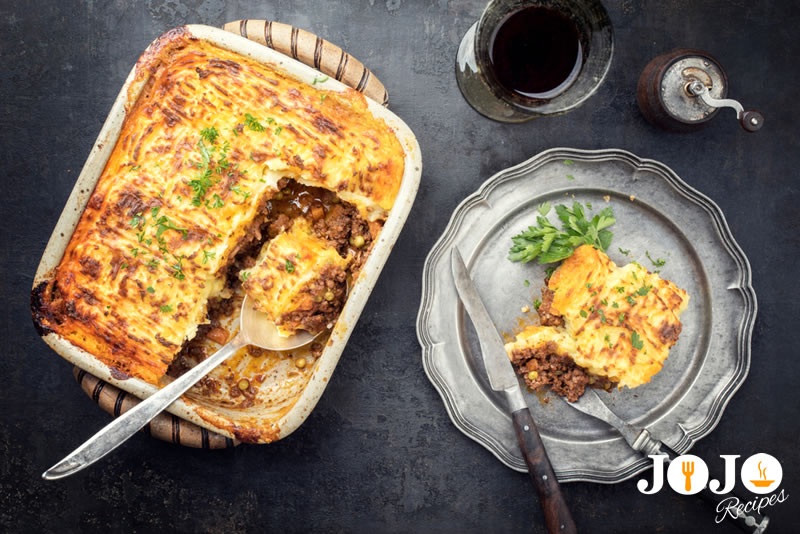 Shepards pie (also known as Shepherd's pie or Cottage Pie) is a meat pie with a crust or topping of mashed potato. In early cookery books, the dish was a means of using leftover roasted meat of any kind, and the pie dish was lined on the sides and bottom with mashed potato, as well as having a mashed potato crust on top.

The recipe has many variations, but the defining ingredients are minced red meat, cooked in a gravy or sauce with onions and sometimes other vegetables, such as peas, celery or carrots, and topped with a layer of mashed potato before it is baked. The Shepards pie is sometimes also topped with grated cheese to create a layer of melted cheese on top.

The term Shepards pie was initially used synonymously with cottage pie, regardless of whether the meat was beef or mutton. In England (and Australia and New Zealand) they would call the beef dish a "cottage pie" and the lamb dish "Shepards pie". In England, the birthplace of this hearty dish, shepherd's pie is most often made with a ground-lamb filling.

Beloved by the British, this rich, protein-filled dish is traditionally made with a mashed-potato crust. Shepards Pie is also a traditional Irish dish made with ground lamb cooked with peas and carrots and topped with a mashed potato crust.
Related Recipes:
Easy Dinners Recipes
·
British Food