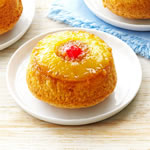 How To Make Pineapple Upside Down Cake Recipe in 3 Steps
After hundreds of Pineapple Upside Down Cake recipes tested by our expert team, we chose the best Pineapple Upside Down Cake recipe of 2023! Learn how to make in 3 easy steps! Pineapples and cherries are wonderful on their own, but pair them with vanilla, butter, brown sugar and you've got a whole new world of awesome. This is the kind of show-stopping cake you bake for friends, family, and guests. Trust me, you'll want to have it around to impress all the dessert lovers in your life!
Pineapple Upside Down Cake Ingredients
1 (20 Ounce) Can Dole® Pineapple Slices

2 Tablespoons Margarine, Melted

1/4 Cup Packed Brown Sugar

8 Maraschino Cherries

1 (9 Ounce) Package Yellow Cake Mix



How To Make Pineapple Upside Down Cake - #1 Step

Heat oven to 350°F. Spray pan with non-stick cooking spray. Drain pineapple.

You can use fresh or canned pineapples. Canned are easiest (and cheapest!)




How To Make Pineapple Upside Down Cake - #2 Step

In 8-inch cake pan, melt butter in oven. Sprinkle brown sugar evenly over melted butter. Stir together melted margarine and brown sugar.

Place pineapple slices over brown sugar mixture. Arrange the pineapple rings in a single layer on top of the sugar, making 3 rows.

Place cherry in center of each pineapple slice. I like to use a ton of cherries. Just dot them wherever you see an empty space between all the pineapple rings.




How To Make Pineapple Upside Down Cake - #3 Step

Make batter. Prepare cake mix according to the package directions.

Pour the batter into the cake pan on top of the pineapple slices and cherries and spread it around into one even layer.
How Long to Cook Pineapple Upside Down Cake?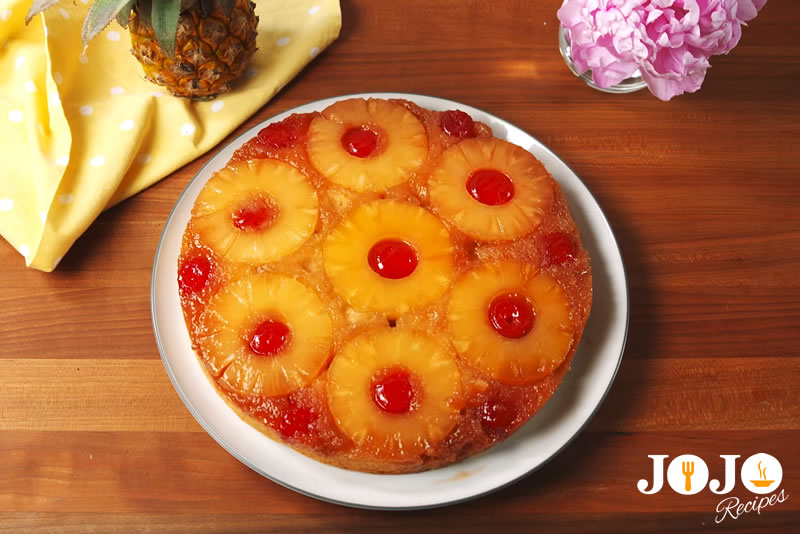 Bake at 350 degrees F, 25 to 30 minutes. As the Pineapple Upside Down cake bakes, the buttery brown sugar sauce will bubble up the sides, creating a buttery glaze on all sides of the cake. Test for doneness by inserting a toothpick in the center or pressing the Pineapple Upside Down cake lightly with a fingertip.

If the impression springs back, the Pineapple Upside Down cake is done. Allow your pineapple upside down cake to cool for 10-15 minutes before you attempt inversion. Once your pineapple upside-down cake is baked and slightly cooled, you'll need to flip the cake out onto a serving plate.

If any of the pineapple upside down cake has baked into the edge of your pie plate or cake pan, you can use a knife to gently loosen the edges and free them from the pan. Run a knife around the edges of the pan and place a serving dish on top. Using oven mitts carefully and firmly grip both the side of the cake platter and the cake pan on either side.

Set the serving plate over the cake pan, or a large serving plate, and flip the two together. Then invert the cake onto your cake stand or a large serving plate. Watch the bubbly, brown sugar sauce drip down the sides.

Now let gravity slowly drop the pineapple cake out of pan — banging or thrusting the pan may break the cake, so have a little patience here! Leave the pan inverted over the cake for several moments to allow the syrup to soak into the cake.

Finally, if any pineapples or cherries have slipped out of place, gently nudge them back where they belong. Serve warm with a scoop of ice cream. Cover Pineapple Upside Down cake and store in an airtight container in the refrigerator for up to 3 days.
Pineapple Upside Down Cake Nutrition Facts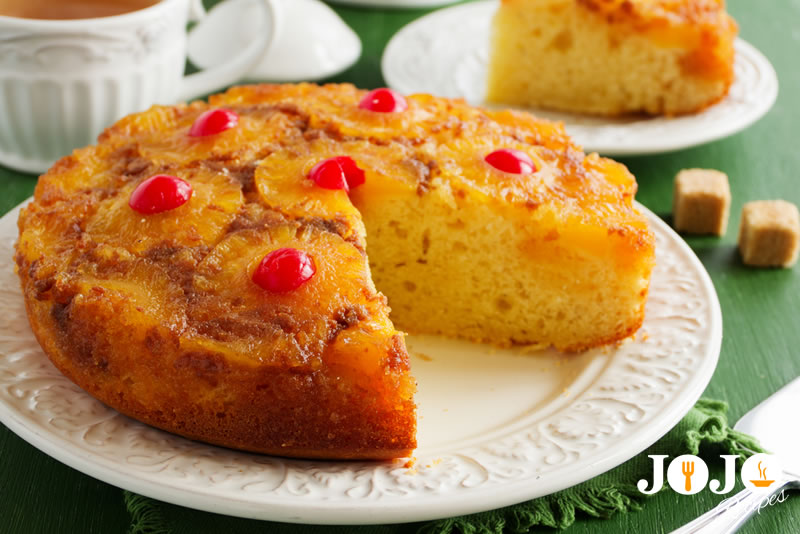 Per Serving:
229 calories
;
6g fat
;
1g saturated fat
;
1mg cholesterol
;
246mg sodium
;
42g carbohydrate
;
26g sugars
;
2g fiber
;
2g protein
. Please keep in mind that nutritional information is a rough estimate and can vary greatly based on products used.
The Best Pineapple Upside Down Cake Recipe 2023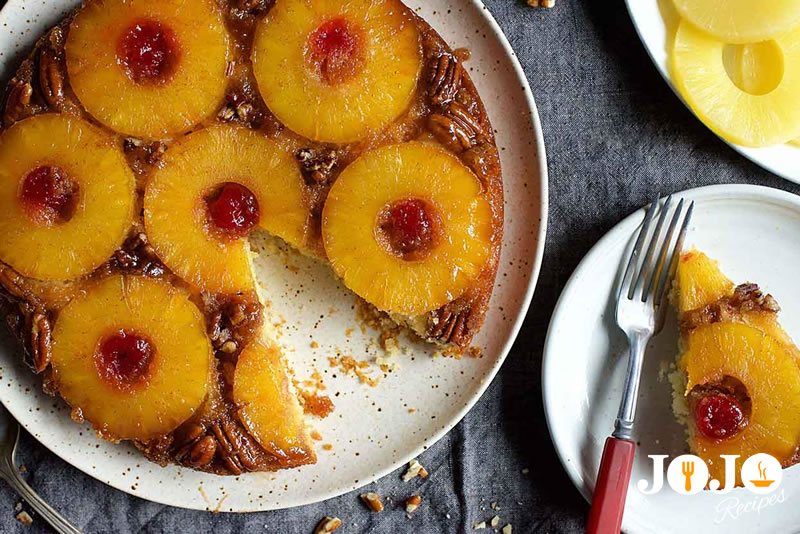 This is the best Pineapple Upside Down Cake recipe of all time! This is this pineapple upside down cake recipe is perfect dessert to make. Forget the idea that baking a pineapple upside down cake is time-consuming. This recipe stars a buttery cake that gets baked on top of a layer of pineapple slices and cherries in a brown sugar-butter mixture, and when it gets flipped over after baking. It's easier than you think! The sweet syrup infuses the pineapple upside down cake with extra flavor.

It is hard to overstate how simple yet stunning pineapple upside down cake is. This cake has retro charm, but it's a classic whose appeal hasn't waned since it first appeared on the home baking scene. It starts with a rich butter cake that, once removed from the pan, reveals a design of caramelized pineapple rings studded with maraschino cherries.

Each bite is little treasure chest of flavor — tender cake, mingled with the sweet and slightly tangy notes of pineapple and cherry. The thing about pineapple cake that makes it so beloved is that it is dead simple to make at home. The fruit for pineapple upside down cake is canned, meaning you never have to worry about it being in season, and you don't need to know any special baking techniques to make this cake successfully at home.

Pineapple upside down cake is simple enough to be considered an everyday cake. I prefer to keep with the classic canned pineapple rings and maraschino cherries, as they give the cake its iconic look. This Pineapple Upside Down Cake is made completely from scratch, but I promise it's easy to make.

Whether you need something sweet to cap off Easter or Mother's Day, or are simply looking for something to transform a weeknight dinner into something special, this pineapple upside down cake is the answer!
The Best Pineapple Upside Down Cake! This is my favorite recipe for homemade classic Pineapple Upside Down Cake. Super-moist and full of flavor! I make this recipe all the time.
Pineapple Upside Down Cake Recipe Tips
For 3 cups of sweetened whipped cream, in chilled medium bowl, beat 1 1/2 cups whipping cream and 2 tablespoons granulated sugar with electric mixer on high speed until soft peaks form. Update this cake by using sliced fresh pineapple, peaches, apples or pear, with fresh chopped herbs or dried spices added to the brown sugar and butter mixture.

The secret to this cake's beautiful top is the "flip" that happens when you remove it from the oven and turn it over on a heatproof serving plate. It's an easy technique that just requires a bit of confidence.
The result is a picture-perfect upside-down pineapple cake from scratch. Keep in mind that fresh pineapple and cherries produce considerably more juice while cooking and might not produce the same sticky-sweet topping that canned pineapple and maraschino cherries will.

Use a 20-ounce can of sliced pineapple for this recipe - you will have enough slices for the cake, and enough juice needed for the batter, as well. If you don't have a high-sided 10-inch cake pan, you might try making this in a springform pan.

Line the inside with foil so the caramel doesn't leak, and bake on a rimmed baking sheet just in case it does.
Pineapple Upside Down Cake Origin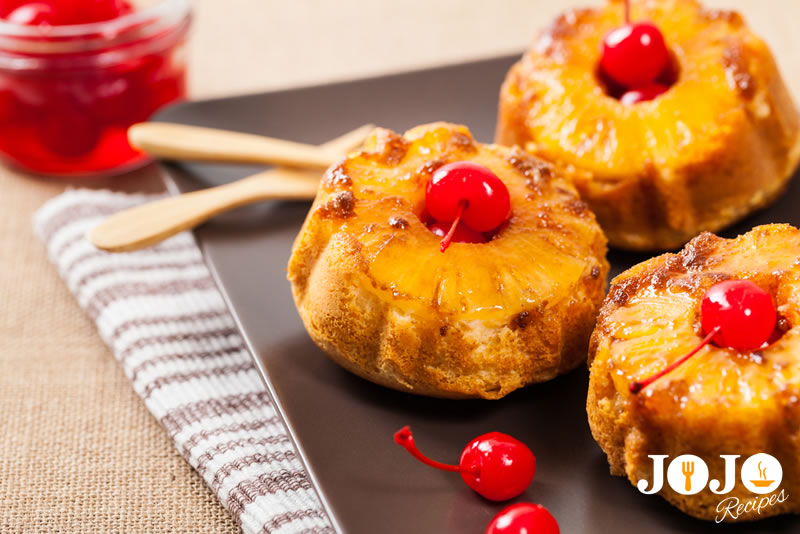 One of the earliest mentions of upside down pineapple cake is in a 1925 Gold Medal Flour ad, which featured a golden-brown cake with pineapple slices, cherries and a brown sugar glaze. Pineapple upside down cake is often rooted with the story of Dole Pineapple producing a contest for pineapple recipes after their invention of a pineapple ring cutting rig around 1920.

But Pineapple upside down cakes have a history born before home ovens, when these "skillet cakes" were baked over a fire. The cake was a modern marvel, since it relied on the recently introduced innovations of canned pineapple rings and preserved maraschino cherries.

Considered a classic American cake, pineapple-upside down cake first appeared when canned pineapple become available. But the method of creating a lusciously caramel-like topping for a cake, pastries (like caramel rolls), or bread has a long baking history.

Pineapple upside-down cake's popularity peaked in the 1950s, but it's stuck around, becoming just as much of a classic because it's so easy to make. While it's been around for a long time, a good cake never goes out of style, so it's no surprise that classic Pineapple Upside Down Cake recipe is still going strong after decades of popularity.
Related Recipes:
Breakfast Recipes
·
American Food