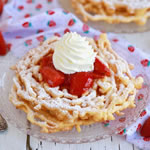 How To Make Funnel Cake Recipe in 4 Steps
After hundreds of Funnel Cake recipes tested by our expert team, we chose the best Funnel Cake recipe of 2023! Learn how to make in 4 easy steps! This easy homemade funnel cake recipe tastes just like the classic fair favorite. Top these with some powdered sugar or your favorite topping for a simple treat that everyone will love! Funnel cakes are so easy. Once you have the ingredients gathered, making the funnel cakes are fairly simple. Just do the following:
Funnel Cake Ingredients
1/2 Teaspoon Salt

2 Teaspoons Baking Powder

3 2/3 Cups All-purpose Flour

3 Eggs

1/4 Cup White Sugar

2 Cups Milk

1 Quart Vegetable Oil For Frying, or as Needed

2 Tablespoons Confectioners' Sugar, or as Needed



How To Make Funnel Cake - #1 Step

Mix salt, baking powder, and half the flour in a bowl. Set aside.




How To Make Funnel Cake - #2 Step

Cream eggs, sugar, and milk in a large bowl. Add flour mixture and beat until smooth. Continue to add remaining flour, but use only enough to achieve desired consistency.

Batter will be thin enough to run through a funnel.




How To Make Funnel Cake - #3 Step

Heat the oil to 375 degrees F (190 degrees C) in an 8-inch skillet. If using a funnel, cover the bottom of the spout with your finger as you pour the batter in.

Put your finger over the bottom opening of the funnel, and fill the funnel with a generous 1/2 cup of the batter.




How To Make Funnel Cake - #4 Step

Position funnel over the hot oil and slowly move your finger so batter comes out in a steady stream. Make circular and crisscross motions to form a funnel cake.

Move the funnel in a spiral motion until all the batter is released, scraping with a rubber spatula if needed.
How Long to Cook Funnel Cake?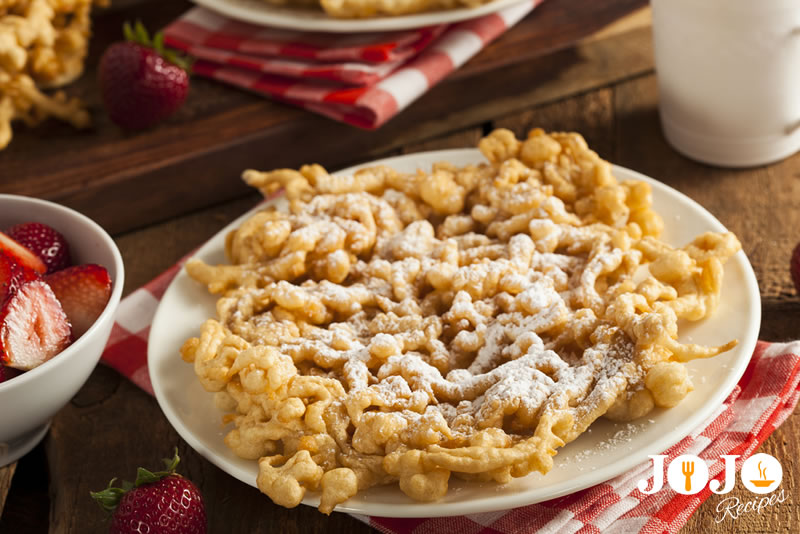 Just fry for a minute or so on each side, then you're done. Fry until golden brown. Use tongs and wide spatula to turn the cake over carefully.

Fry the second side one minute. Remove to a paper towel to drain. Enjoy with desired toppings like powdered sugar, fruit, whipped cream, chocolate, caramel or all of the above!

If you happen to find that you have left over funnel cakes you can store them in an airtight container the fridge for later. For a soft funnel cake you can microwave them. For a crispier cake you can put them in the over or the toaster.

To freeze funnel cakes, just let your cakes come to room temp, then wrap and store in the freezer for up to 3 months. It definitely want taste as great as it did fresh but can be made a little crispy and warm if reheated in the microwave.
Funnel Cake Nutrition Facts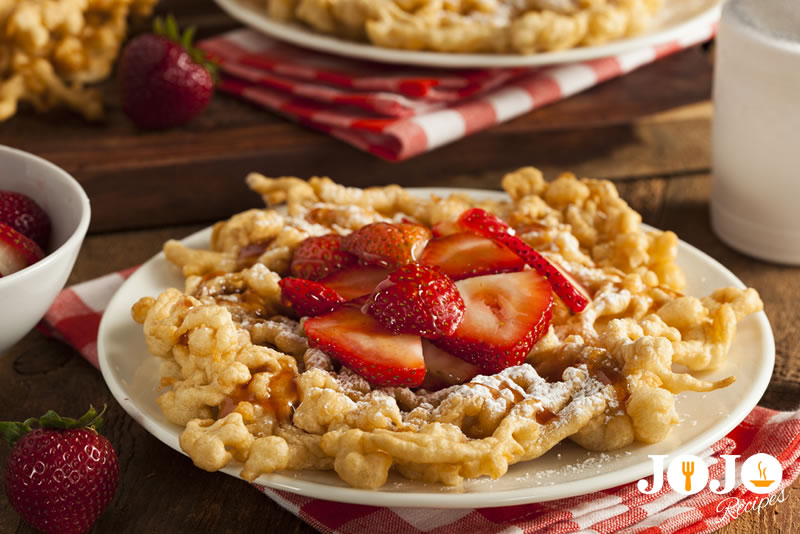 Per Serving:
263 calories
;
10g fat
;
2g saturated fat
;
50mg cholesterol
;
213mg sodium
;
36g carbohydrate
;
18g sugars
;
1g fiber
;
7g protein
. Please keep in mind that nutritional information is a rough estimate and can vary greatly based on products used.
The Best Funnel Cake Recipe 2023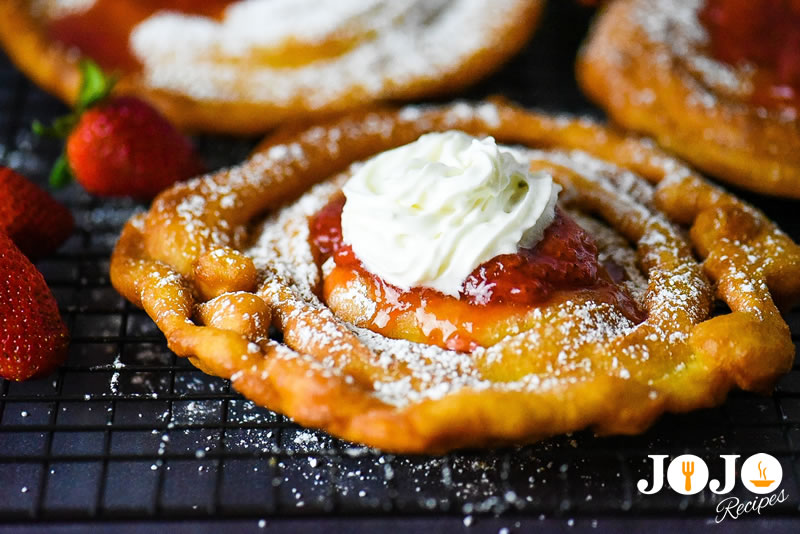 This is the best Funnel Cake recipe of all time! Homemade funnel cakes are the perfect treat for weekend festivities. Everyone loves the funnel cakes from the carnivals and fair. We love that we always have the ingredients for the funnel cake batter on hand. Funnel cakes are a blast to make and come together super fast. Now you can make them at home with this easy funnel cake recipe. Funnel cakes are made by pouring batter through a funnel into hot oil and swirling in a circular motion.

The batter is fried until it's lightly golden brown then topped with a sprinkle of powdered sugar or your favorite topping. These funnel cakes also taste kind of similar to donuts, but the batter is thinner and crispier.

Traditionally funnel cake batter is also poured through a funnel into the oil, but you can use a squeeze bottle or just pour it into a liquid measuring cup and pour it into the oil that way. As you're pouring it, you'll want to make circular motions to get that classic funnel cake look.

These don't have to be perfect either, which is the beauty of this recipe! We've been making these for so long that they've become go-to treats in the family. We want them to be the same for your family, so here are some of our best tips for making homemade funnel cakes.
Funnel cakes are so easy and so yummy! I like this funnel cake recipe because it's easy, yummy, straight forward and gets me my funnel cake fix in a hurry. These funnel cakes are perfect in every way!
Funnel Cake Recipe Tips
To make these funnel cakes, you'll start out by heating some oil in a large skillet or pot. I suggest sticking with a neutral oil like canola or vegetable oil to fry these funnel cakes, I used canola oil in this recipe since it's what I always have on hand.

You'll want to heat the oil to about 350°F (177°C) before you pour in the batter. If the oil is not hot enough then the funnel cakes can absorb too much of the oil and turn out a little greasy.

I suggest using a thermometer if you have one, this is the one that I like to use. The amount of oil really depends on how wide or tall your pot is. You want oil to fill about 1/3 of the pot. I use a little more than 1 quart for my 4 and 1/2 quart Dutch oven. Do not pour used oil down the sink drain. Allow to cool, then pour into an empty container and discard in the trash. Or reuse it.
When you pour the batter into the oil, make a big swirl starting from either the center or outside. Then you can zig zag your way all throughout the swirl shape, connecting some of the swirl layers. There are so many great toppings to add to your funnel cake.

It all depends on what you like, but here are some of our favorites: whipped cream, strawberries, blueberries, blackberries, peaches, chocolate fudge sauce, caramel sauce or powdered sugar. You can make the batter ahead of time and store it in an airtight container in the refrigerator for 3-4 days and still be able to make a delicious funnel cake.

Squeeze Bottles actually work better than funnels. Find an old ketchup bottle or something similar that is clean that you can pour the batter into. It makes cooking the funnel cakes so much easier. Use the tongs to make sure the batter is submerged in the oil and use both the tongs and metal spatula to flip the cake.

Funnel cakes should be served immediately after frying, so they maintain a crisp, yet light-and-airy texture. If using a deep fryer, consider starting with new oil to make this dessert. Otherwise, your funnel cake may taste a little like last week's fish and chips.
Funnel Cake Origin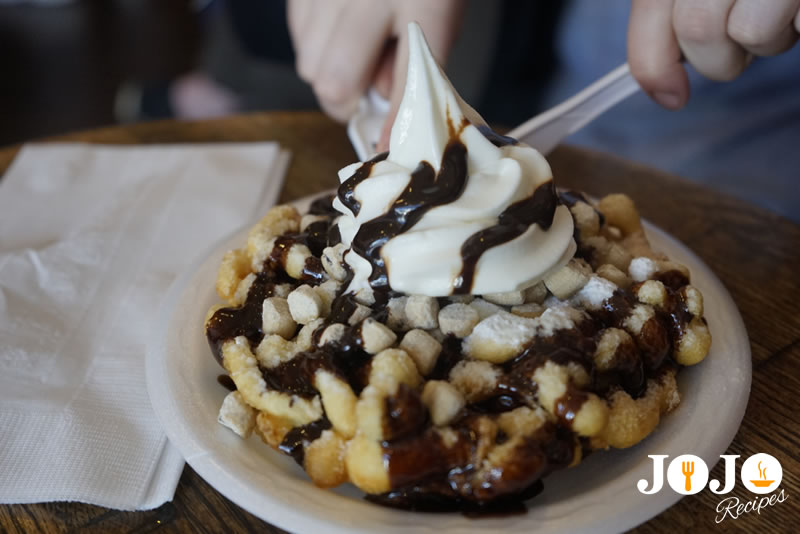 In medieval times, the fritters were most often made by pouring a yeast or sourdough batter through a bowl with a small hole cut in the bottom. The resulting cakes were doused with sugar syrup and sprinkled with salt. This salty sweet combination actually seems a bit more modern than the simple dusting of powdered sugar we've grown accustomed to. In modern day America, we've come to associate funnel cakes with the Pennsylvania Dutch, a group of mostly German speaking immigrants who came to Pennsylvania during the 17th and 18th centuries.

Classic funnel cake is not actually a cake at all. Popularized by the Pennsylvania Dutch in the 1950s, they've become a staple at amusement parks and boardwalks across the country. These American funfair favorites are a cross between a doughnut and churros.

Instead, this iconic dessert is made with a spiraled fried batter, topped with fresh strawberry sauce and generously dusted with lots of powdered sugar. The combination of crunchy fried dough and sweet and tangy strawberry sauce is unforgettable.

Pennsylvania Dutch funnel cake mythology evolved in large part due to the Kutztown Folk Festival. Funnel cakes were served at the festival and became wildly popular as a result. From that time forward, funnel cakes became a trademark dessert at every Pennsylvania Dutch festival that followed.
Related Recipes:
Breakfast Recipes
·
American Food