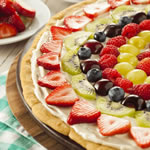 How To Make Fruit Pizza Recipe in 5 Steps
After hundreds of Fruit Pizza recipes tested by our expert team, we chose the best Fruit Pizza recipe of 2023! Learn how to make in 5 easy steps!We love this fruit pizza around here! A sweet, slightly crisp cookie crust, a slightly tangy frosting, and your favorite fruits, there's no way you can go wrong with a fruit pizza. Fruit pizza is the quintessential summer dessert. No matter how you categorize it, everyone can agree that fruit pizza cookies are brilliant.
Easy to prepare and simple to serve, this is a recipe that delivers a burst of freshness and a pop of color to the table every time it's made. The fruit pizza frosting is sweetened cream cheese, and the choice of fruit is totally up to you.
Fruit Pizza Ingredients
1 (16.5 Oz) Pkg Refrigerated Sugar Cookie Dough

1 (8 Oz) Pkg Philadelphia Cream Cheese, Softened

1/4 Cup Granulated Sugar

1/2 Tsp Vanilla Extract

4 Cups Assorted Fresh Fruit (such as Kiwi And Strawberry Slices, Red Raspberries, Blueberries, Diced Pineapple And Canned Mandarine Oranges)

1/4 Cup Apricot Preserves , Pressed Through a Sieve To Remove Lumps

1 Tbsp Water



How To Make Fruit Pizza - #1 Step

Heat oven to 375 degrees. Butter a rimmed 12-inch pizza pan, line with a round of parchment paper and butter parchment paper (or alternately line with foil and spray foil with non-stick cooking spray).

Break up cookie dough over prepared pizza pan. Press dough evenly in bottom of pan. Spread into an even layer to completely cover bottom of pan.




How To Make Fruit Pizza - #2 Step

Bake 13 - 14 minutes. Over baking will lend a hard crust. Center will be soft, but will set during cooling.

Remove from oven and cool completely on a wire rack. Allow crust to cool completely before decorating.




How To Make Fruit Pizza - #3 Step

In a mixing bowl using an electric hand mixer (or in the bowl of a stand mixer), whip cream cheese with sugar and vanilla until light and fluffy.




How To Make Fruit Pizza - #4 Step

Spread evenly over cooled crust.




How To Make Fruit Pizza - #5 Step

Arrange fruit over cream cheese. Decorate the pizza with sliced fresh fruit using whichever fruit you love and in any pattern you love.

The more colorful the fruit, the better.
How Long to Cook Fruit Pizza?
Heat oven to 375 degrees. Bake 12 – 14 minutes until edges are golden. Cool completely on a wire rack. Then the fruit pizza is decorated with fresh fruit and we're ready to serve. You can serve right away or refrigerate 2 hours then cut into slices.

If you're feeling fancy, you can garnish your fruit-topped pizza with white chocolate drizzle, chocolate syrup, caramel sauce or a variety of fruit purees for added color and taste. Pizza may be stored in the refrigerator, loosely covered, for up to 4 hours.

Best served fresh as the fruit will begin to release juice the longer it sets. Baked, unfrosted cookies can be stored at room temperature for up to 4 days. Unbaked cookie dough can be stored in the refrigerator for up to 3 days.

You can definitely freeze the crust. Just cool it and wrap it tightly and freeze. You can freeze it up to 2-3 months. Thaw and add topping and fresh fruit.
Fruit Pizza Nutrition Facts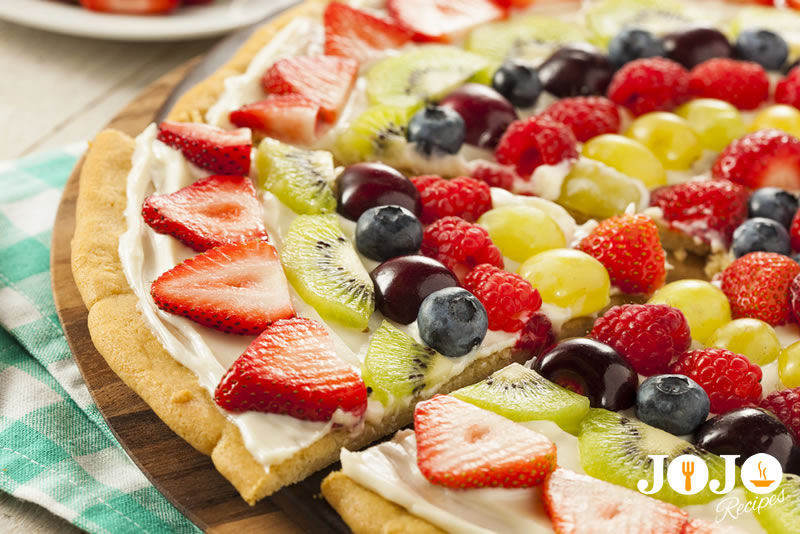 Per Serving:
322 calories
;
16g fat
;
6g saturated fat
;
30mg cholesterol
;
213mg sodium
;
48g carbohydrate
;
33g sugars
;
1g fiber
;
3g protein
. Please keep in mind that nutritional information is a rough estimate and can vary greatly based on products used.
The Best Fruit Pizza Recipe 2023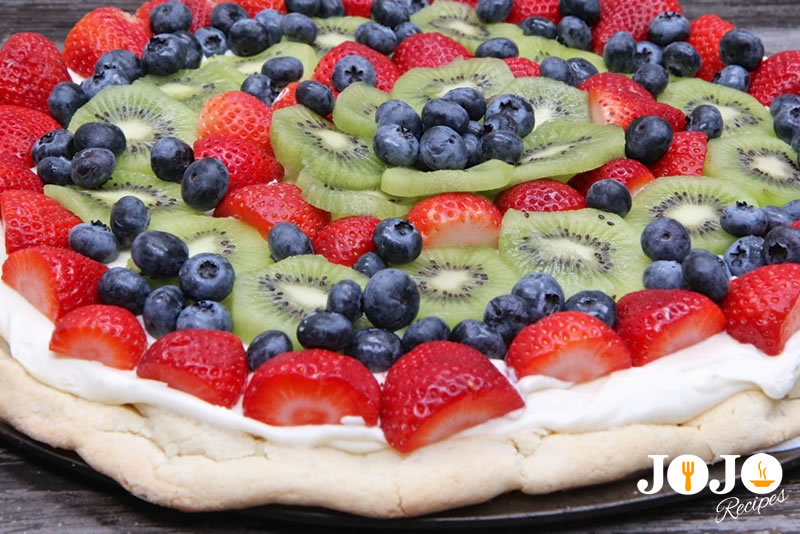 This is the best Fruit Pizza recipe of all time! This easy fruit pizza recipe is beautiful and delicious! A soft sugar cookie crust with a cream cheese frosting and topped with sliced fruit. This Fruit Pizza is a staple summer recipe! I love to make it at least once every summer and top it with a colorful variety of seasonal fruit. You just can't go wrong with a cookie topped with a rich, tangy frosting and lots of fresh fruit. Everyone loves this! You get a chewy sugar cookie base that's covered with a luscious cream cheese topping, and layered with a generous amount of vibrantly flavored fresh fruit.

Then it's finished with a sweet apricot jam which gives the pizza the perfect finishing sheen. As you'll see, fruit pizzas are highly customizable to your flavor preferences and they require very little effort for an impressive looking treat!

If there's a more impressive dessert that requires so little effort, we don't know what it is! The time-saving secret behind this beautiful fruit pizza is a crust made from refrigerated sugar cookie dough, and the wow factor comes from the rainbow of fresh fruit. Cream cheese fruit pizza is a favorite in our house all summer long and this version couldn't be any simpler. It's colorful, bright, and bursting with fresh fruit goodness!
Sweet, creamy, juicy, and fruity from edge to edge. Each bite loaded with different fruit to go along with the cream cheese frosting and soft-baked cookie crust. Fruit Pizza is so easy to make and everyone both young and old alike will absolutely love it!
Fruit Pizza Recipe Tips
All of the parts of this fruit pizza can be prepared in advance, but I don't recommend assembling until shortly before you are ready to serve the pizza as some of the fruit juices tend to leak onto the frosting as they set. This beautiful fruit pizza is so easy to make, it's incredibly delicious and it's sure to impress.

You can also make it with a homemade cookie base. Get creative with the fruit topping—you can casually arrange the fruit over the top of the cream cheese filling or arrange it in concentric rings to look like a fancy bakery tart. Like other refrigerated doughs, cookie dough likes to stay cold until it's ready for the oven.

This cookie crust is an easy do-ahead; bake it up and store it at room temperature for up to 1 day. Stir grated fresh lemon zest into the cream cheese filling; the tart citrusy edge contrasts will its richness and plays well with the fruit.
Warm the apple jelly just a bit (5 to 10 seconds) in the microwave, so it stirs up smoothly for glazing the fruit. You can also use currant or raspberry jelly if you'd like to switch things up and use fresh raspberries on top.

Drizzle the melted jelly over the fruit with a small spoon or use a pastry brush. You could even try adding a teaspoon of lemon juice for a sweet lemon cream cheese frosting on your fruit pizza. Fruit Pizza can be sliced like a regular pizza or cut in smaller squares for serving.

This fruit pizza recipe could also be turned into individual fruit pizza cookies. You could add pineapple for the yellow or even banana, but banana browns quickly so you will want to serve immediately.

For best results, frost and top cookies the same day they are served. Don't forget to add a good cocktail to the mix with this Easy Fruit Pizza for maximum enjoyment.
Fruit Pizza Origin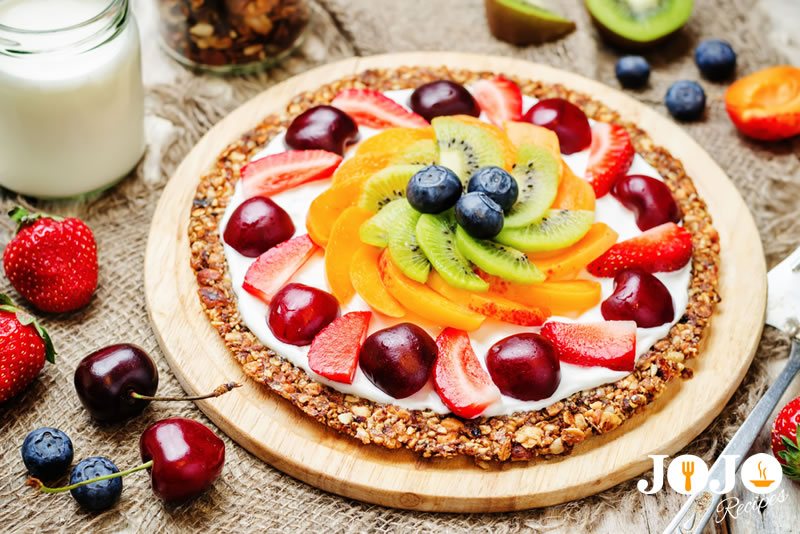 Immigrants from Naples to the United States tried out their pizza recipes and started restaurants in major cities like New York City, Boston, and Chicago. More gourmet versions topped with barbeque chicken or salmon have popped up in California and with the invention of fruit pizza, it is safe to say that the pizza possibilities are endless.

There is word that fruit pizza did originate from California when a cook at a pizzeria accidentally added strawberries to a pizza, but this is speculation. Since the idea has sprung up, however, there has been a vast outpouring of fruit pizza creativity.

Food bloggers have even started making mini fruit pizzas and shaping the dough into a bowl for the frosting and fruit to rest inside. Another crucial part of this dessert is the glaze–and bakers have gotten creative with this as well.

Some drizzle chocolate or caramel, others squirt on lemon juice or brush on a citrus glaze. The best part of fruit pizza is definitely the creativity involved. Fruit Pizza is a fantastic dessert that packs a ton of flavor.

If you aren't familiar with "fruit pizza," best clear your plans, soften a block of cream cheese, and load up on fresh fruit, because you need to try this Midwestern staple. A dessert "pizza" comprised of a sugar cookie crust, sweet cream cheese sauce, and fresh fruit toppings, fruit pizza is a simple but stunning dessert.
Related Recipes:
Pizza Recipes
·
Italian Food