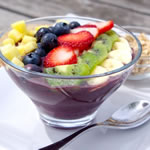 How To Make Acai Bowl Recipe in 4 Steps
After hundreds of Acai Bowl recipes tested by our expert team, we chose the best Acai Bowl recipe of 2023! Learn how to make in 4 easy steps! Meet the new love of my life, the acai bowl featuring healthy, antioxidant rich acai powder, strawberries, blueberries, blackberries and banana, blended to a thick & creamy smoothness. So time to whip up this delicious acai bowl! This recipe for an acai bowl is a smoothie made with fruit, acai berry puree and yogurt that's served in a bowl and finished with a fun and colorful variety of toppings.
Make your own creamy acai bowls at home!
Acai Bowl Ingredients
1 Cup Of Apple Juice

1 Large Banana Sliced

1 1/2 Cups Of Frozen Berries

1/2 Cup Vanilla Greek Yogurt

1 Tablespoon Honey

1 Frozen Packet Of Acai Berry Puree (100 Grams), Broken Into Pieces

Assorted Toppings Such as Sliced Almonds, Berries, Shredded Coconut, Granola, Chia Seeds, Sliced Banana, Mint Sprigs, Etc.



How To Make Acai Bowl - #1 Step

Place the apple juice, banana, frozen berries, yogurt, honey and acai puree in the blender.

The key to making a thick and creamy acai bowl is to use frozen fruit and a powerful blender.




How To Make Acai Bowl - #2 Step

Blend until thoroughly combined and smooth.

Add extra water if needed (most likely you won't need any).




How To Make Acai Bowl - #3 Step

Pour the smoothie into 2 deep bowls.




How To Make Acai Bowl - #4 Step

Arrange the desired toppings over your smoothie bowls and serve. This is the fun part of making an acai bowl!

You can be as creative as you like with the toppings or you can choose to enjoy the acai bowl plain, that's totally up to you. I recommend drizzling on about a tablespoon of honey over everything.
How Go Make An Acai Bowl?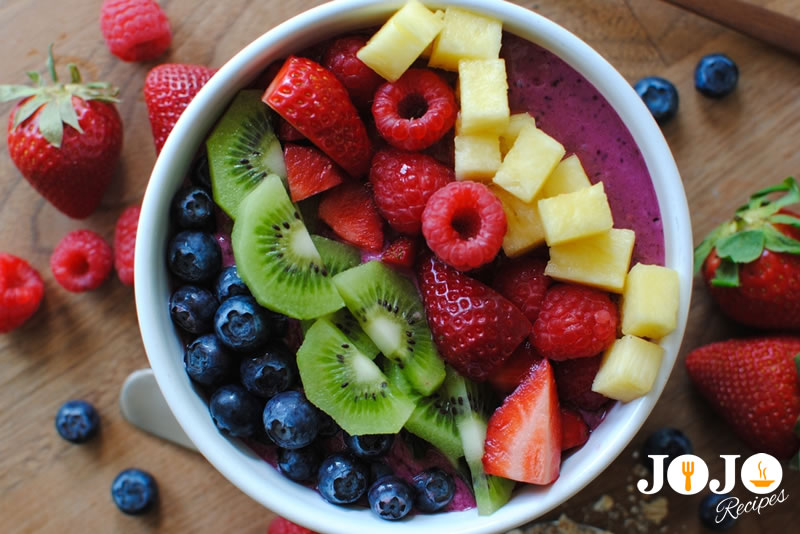 The typical Brazilian Acai Bowl is called Açaí na tigela and pretty much consists of frozen acai berry pulp and a dash of guarana syrup. You'll have to scout out some frozen unsweetened acai blend packets. I like the brand Sambazon.

An acai bowl is a blended mixture of acai berries and other fruits, served in a bowl and topped with a variety of fresh fruit, nuts and seeds. I find that the texture of the acai bowls are best if served immediately.

If you're looking to make them in advance for meal prep purposes, you can blend up the fruit mixture and store it in small containers in the freezer. Let the acai mixture partially thaw, give it a stir and you'll be ready to eat.

For the toppings, you can use whatever you want or have on hand. I blended some strawberries, blueberries, and banana into my acai bowl.
Acai Bowl Nutrition Facts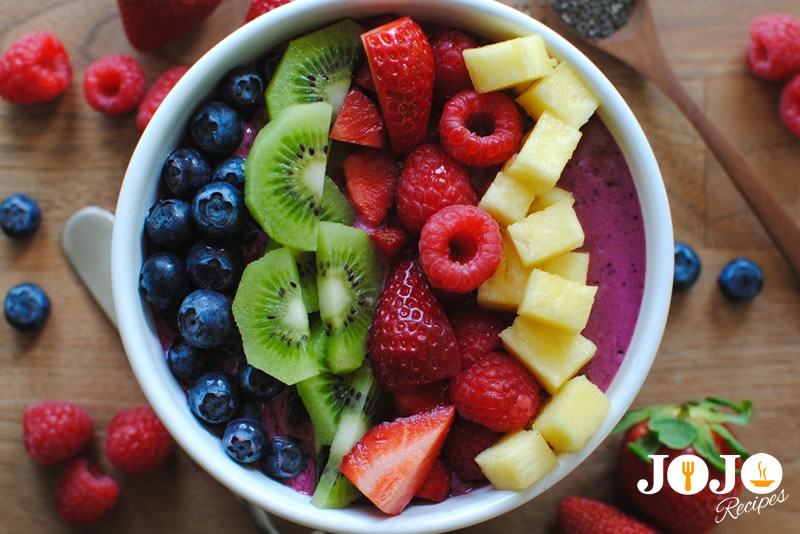 Per Serving:
187 calories
;
9g fat
;
2g saturated fat
;
1mg cholesterol
;
23mg sodium
;
43g carbohydrate
;
34g sugars
;
1g fiber
;
5g protein
. Please keep in mind that nutritional information is a rough estimate and can vary greatly based on products used.
The Best Acai Bowl Recipe 2023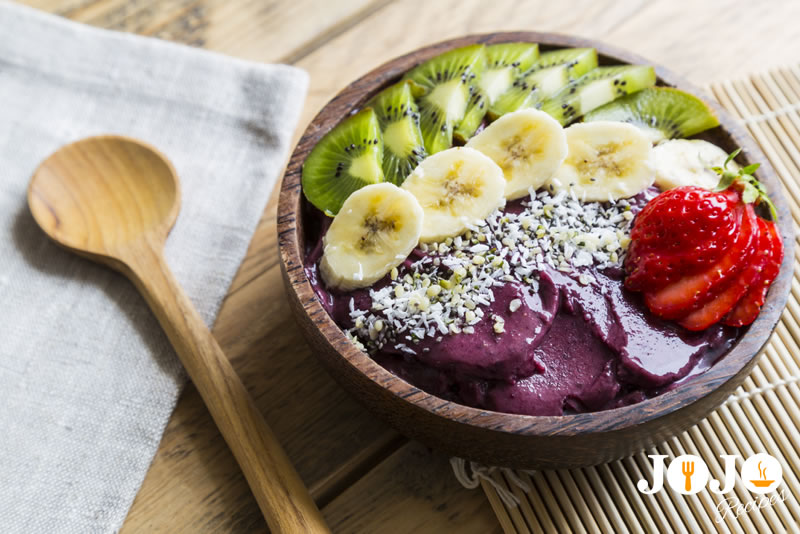 This is the best Acai Bowl recipe of all time! The acai bowl recipe has captured the hearts of many. Do you love acai bowls? I don't remember the exact first time I had an acai bowl, but I do remember I was smitten at first bite. Acai bowls are becoming quite popular in the US, after originating in Brazil. Acai bowls are easy to make at home. This acai bowl recipe is a smoothie made with fruit, acai berry puree and yogurt that's served in a bowl and finished with a fun and colorful variety of toppings. The perfect healthier option for breakfast, lunch or snack time. Acai bowls are full of nutrients such as antioxidants, fiber, protein and vitamins.

That being said, fruit is naturally high in sugar and these acai bowls are primarily fruit based. The topping possibilities are endless, my kids love to make their own acai creations for a fun snack. This recipe for a Classic Acai Bowl. But the beauty of acai bowls are how easily customizable they are, so feel free to tweak.

Acai bowls are the quintessential smoothie bowl. Especially in Southern California where you can find them in nearly every beach town. Acai bowls are a big deal in Hawaii and you can find roadside stands offering an assortment of smoothies, fresh produce, and acai bowls pretty much everywhere.

My acai bowl recipe is packed full of antioxidants and deliciously sweet with a variety of berries, nuts, seeds and mixed fruit toppings. You can make an acai bowl in just a few minutes with your Vitamix or other high-powered blender. You might have already seen lots of beautifully decorated acai bowls on social media or in cafes but did you know that making an acai bowl is actually really easy? Follow my super simple acai bowl recipe below.
Packed with essential vitamins and minerals, acai bowls are the perfect smoothie elixir! This acai bowl recipe combines a variety of nutritious foods to create a unique and colorful snack or breakfast that my kids can't get enough of!
Acai Bowl Recipe Tips
These acai bowls are actually very quick and easy to make, and your family will never guess that they're full of good-for-you foods! When I need a quick nutrition boost, I make a strawberry banana smoothie, mango smoothie, or this creamy and refreshing acai bowl.

You can find packets of acai berry puree in the freezer section of most grocery stores, either with the frozen fruit or the cans of frozen juice. Just break up your acai packet into pieces, toss it into the blender with the other ingredients and you're ready to go!

I used frozen banana, apple juice, vanilla yogurt, frozen berries and acai berry puree. You want your acai smoothie to be on the thick side because you're going to pour it into bowls and eat it with a spoon.

You can blend you acai with peaches, pineapple or mango if you prefer a different flavor. To keep your acai bowls on the healthier side, you can use plain non fat yogurt instead of vanilla, omit the honey, and choose lower calorie toppings for your bowl.
Make sure to freeze your banana at least a few hours before making the acai bowl. The more frozen your ingredients are, the thicker your acai bowl will be. Avoid letting the fruit sit out of the freezer for long before making your bowl.

You can buy acai pulp in single-serving packets in the frozen fruit section at health food stores and Trader Joe's. Acai Capsules will not serve for an acai bowl. If you opt for acai powder rather than frozen acai packets, I recommend freezing your banana to keep your acai bowl nice and thick.

For this homemade acai bowl recipe, it's easiest to have a high speed blender to blend the smoothie. Acai bowls are best eaten right away. If you'd like to make the acai bowl extra creamy, you could add a few spoonfuls of my homemade yogurt (dairy) or coconut yogurt (dairy-free).

Top off your acai bowl with an assortment of fruits, nuts, seeds and a good helping of crunchy granola and you've got yourself a great start to the day. But, the acai bowl isn't just for mornings, you can enjoy one anytime time of day – morning, noon or night!

If you make acai bowl recipes with not much added into them, they are naturally low in calories!
Acai Bowl Origin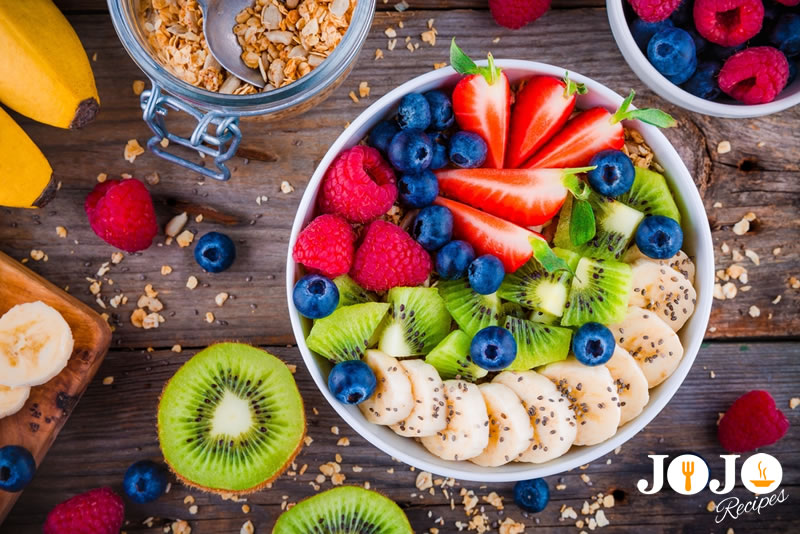 The acai berry is a small deep purple fruit. It comes from the acai palm tree, which is native to Central and South America. Acai tastes like a combination of wild berries and chocolate. There are studies that show that acai fruit pulp is even richer in antioxidants than cranberries, raspberries, blackberries, strawberries, or blueberries. The average acai bowl is filled with antioxidants, vitamins, minerals, fiber, protein and healthy fats.

Acai consumption was mostly limited to the Amazon region until the 1970s, when it spread to northern Brazilian cities. It became popular as an energy food in the jujitsu and volleyball circles, and by the 1990s, acai bowls (açaí na tigela) and acai bars were all over Brazil.

Acai berries a small fruit native to Central and South America and are considered a superfood because of their high antioxidant levels. They're definitely becoming a trendy ingredient, there are acai smoothie bowl shops popping up everywhere in my town!

Acai bowls are a popular dish in Brazil, and they've now become very popular here in the US as a healthy breakfast or snack. Many restaurants and food trucks in the US serve acai bowls, but they are very easy to make at home with our homemade acai bowl recipe.

Due to the popularity of acai bowls, packs of frozen acai pulp are now widely available online or even in stores. We found acai pulp packs at a local grocery. Sambazon is a well-known brand that sells acai and has sustainable harvesting practices.
Related Recipes:
Easy Desserts Recipes
·
Brazilian Food